5 SEO Don'ts Blog Owners Must Avoid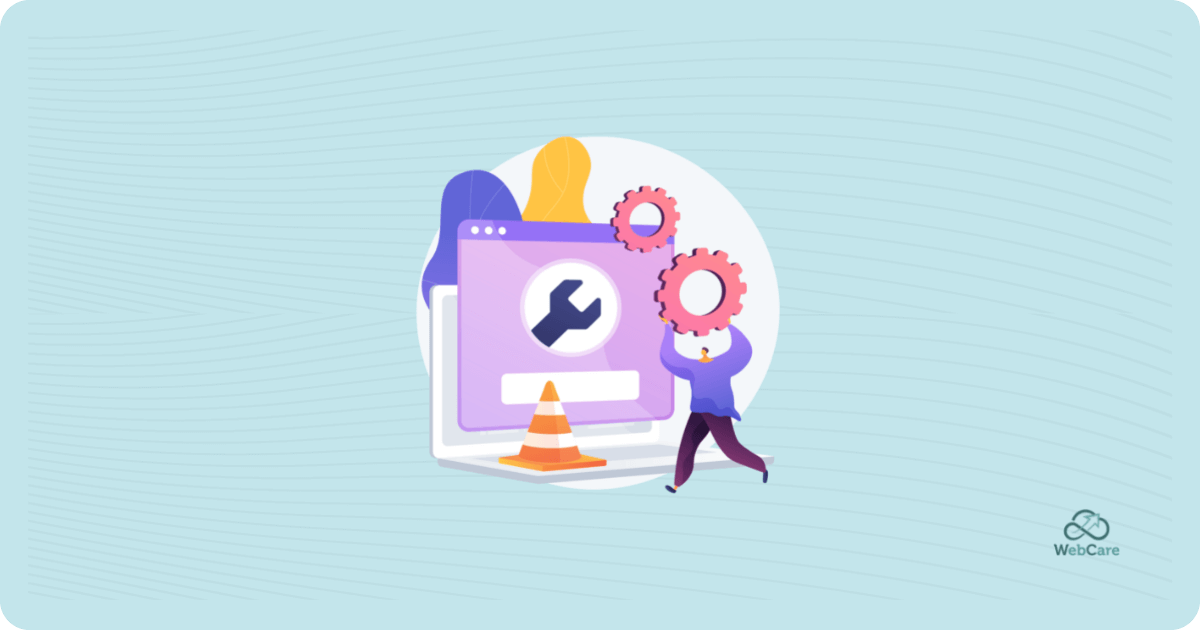 The moment you go online to investigate ways to increase your client base, one acronym immediately pops up – SEO. There are many articles and experts explaining what you should do to improve your Search Engine Optimization. But only one focus on SEO DON'TS. (Trust me, I checked…., but not much further than page 2).
So if you have a blog and want to reach more potential clients, I'll help you avoid the mishaps and help your business be more accessible online.
For the SEO Do's – just Google it! I can also guide you to our own easy read on KPIs to Measure Blog Performance, and even SEO Tips for Writers, but there are many excellent resources on SEO Do's written by industry giants like SemRush.
To find out what SEO Don'ts to avoid, let's get started and get that traffic up!
What SEO Don'ts to Avoid When Improving Your Blog's SEO
Research by HubSpot shows that when users search for products or services on Google, they hardly scroll past the first page.
Continuously improving your SEO to get your website within the first 100 results of Google search results is important. The role SEO plays in growing your business is huge, and these SEO don'ts will help you avoid making costly mistakes that could harm your rankings.
1. Don't overuse keywords – aka keyword stuffing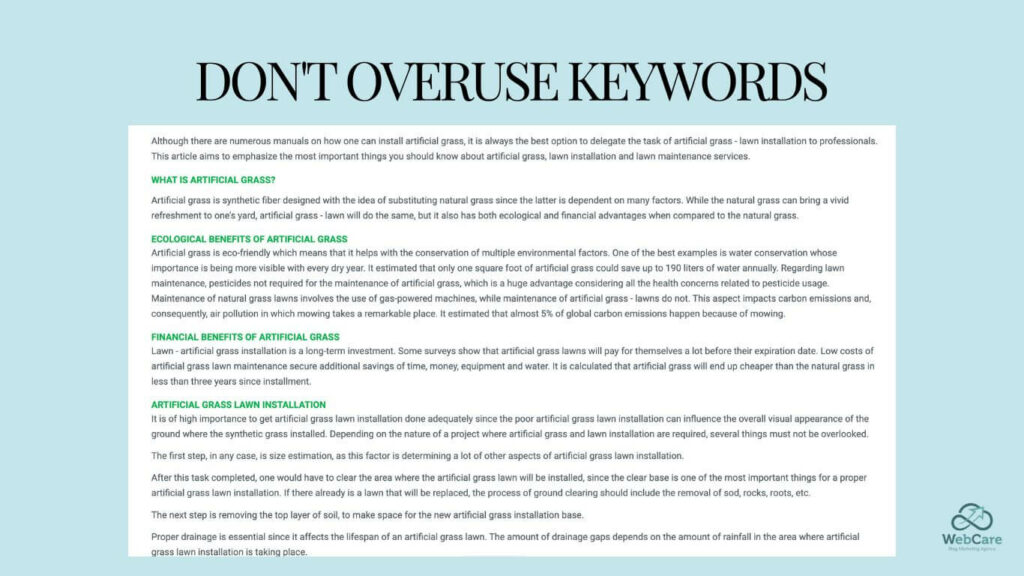 Can you count the number of times `'artificial grass`' has been added to these few paragraphs? 25 times! This is a prime example of what is called 'keyword stuffing.'
It's important to include keywords and related words in your website's content, but what's harmful is intentionally adding the keyword repetitively throughout your copy.
To help your audience better understand your blog's content, keywords should be included in your content naturally.
As a blog owner, stipulate in your blog's writing guidelines that your content writers should not overuse the keyword.
According to Google, keyword stuffing is not effective and, in fact, they will penalize your site for this practice. Google aims to supply searchers with quality content that is relevant and engaging to the reader.
2. Don't ignore mobile devices
Some blog owners make the mistake of ignoring mobile SEO when planning their SEO strategies.
People, and me being one of them, search the internet all the time on our mobiles.
According to a study by Statista, mobile device website traffic worldwide has grown by 27.83% from 2015 to 2022. Sounds interesting enough?
Focusing solely on desktop optimization strategies can harm your ranking.
Websites created after mid 2019 are all indexed for mobile devices first. What that means is that Google uses your website's performance on a mobile device to evaluate and rank your site.
Your website must provide mobile users with fast and optimized performance. To help you improve your website for mobile searches, you need to:
Optimize your images:
Optimizing images provide better user experience and faster page load times. Try to make all your images less than 100KB. Videos should also be optimized to load quickly.
Eliminate 'unfriendly' pop-ups:
Imagine being on a website watching an interesting video only to have your entire screen blocked by a pop-up. You can't even find the X to close the annoying pop-up. You end up leaving – and that's not a good user experience.
To avoid a penalty, Google recommends using easy to close pop-ups that make your content easy to access.
Google AMP:
Accelerated Mobile Pages (AMP) is one of the great ways to have your site rank better in mobile searches. It was designed to help transform the consumption of mobile content by assisting with content strategy and SEO. It offers great benefits, such as improved ranking, traffic, and website engagement.
But just like everything else, it has its own cons such as restricted images on your AMP pages and you'll be allowed to have only one ad per page. You can find out more about this here.
3. Don't focus on Google only
It's quite common practice that people focus their optimization efforts on Google and not other search engines.
Granted, Google is a clear leader and so it's only natural that people focus on it.
But ignoring other platforms such as Bing and Yahoo! in your optimization plans means missing out on remarkable traffic.
Microsoft Bing is growing steadily in popularity worldwide and if you want to broaden your horizons and optimize for another search engine, go with it.
However, keep in mind that these engines work differently, and you need to optimize differently for each one.
In case you need more motivation on why you should also optimize for Bing, maybe these points will do it for you:
4. Don't publish inconsistently
While it might be tempting to skip on your publishing schedule once in a while, whatever the reason may be, it's not advisable to do so.
Keep publishing your content consistently, and your SEO results won't be affected.
Also, posting consistently helps your audience understand when to return to your site.
Without fresh content, users will visit your site less, affecting your standings on search engines for your target audience.
Robert Ryan, who is a WordPress developer, social media manager, and SEO expert, performed an interesting experiment.
He spent 251 days publishing no new content on his site and he did this because he wanted to see if people would keep visiting his site.
You can see the stats for yourself on the image below, but this is what he found:
So Ryan's overall traffic declined by 32% and that's quite alarming. There's a strong connection between your overall traffic and your site publishing content consistently.
Being consistent with publishing new content on your site plays an important role in your SEO, and the frequency with which you publish can determine the traffic you generate.
Moral of the story? Publish at least one article a week to keep readers engaged and returning frequently.
We offer a content writing package of four posts a month by accredited industry experts. If you don't have the steam to publish once a week, we can help! Just follow the link at the bottom of this article.
5. Don't ignore negative reviews
Every business would like to have a five-star rating with glowing reviews, right? Unfortunately, there's always a pessimistic person somewhere in the crowd.
Almost, if not all, businesses get negative reviews, and while this might seem like a bad thing, it shouldn't be.
No one wants to hear negative comments about their business, but when it happens, how should you deal with it?
Negative reviews shouldn't discourage you because:
Negative comments highlight flaws your systems may have and give you a chance to fix them;
If you handle negative reviews well, your clients might be more loyal because their grievances were attended to;
A company with some poor reviews can be more realistic and trustworthy than a company with a dubiously high number of 5-star reviews. It is impossible to be perfect, so a perfect company exists neither.
It's essential to respond to every negative comment, even if it might seem untrue to you. When those negative comments hit you, here's how to respond to them.
For more on negative reviews, read our revealing article – How to Guard Your Blog's Reputation – based on an interview with a very experienced Customer Services agent.
Conclusion: SEO Don'ts to Avoid
Improving your website's traffic is important, but so is avoiding all the pitfalls many make.
While search engine algorithms get updated frequently and these points might not apply in years to come, they embed good habits to stick to.
Consider your reader. Consider the fact that many readers access your site with mobile devices. Writing should be natural and not flooded with keywords. Stay engaged with your readers – published routinely, and monitor your reviews and respond quickly.
At the end of the day, your reader still wants to know they are dealing with a human.
Avoiding these SEO don'ts will help you in improving your rankings and gain much-needed website traffic.
Now that you are in the light and know all the SEO don'ts, you can begin your digital marketing drive!
If you liked this post and think it might contain some gems that could help other people, please share and follow!
Do you need help creating blog content?
WebCare crafts quality content for healthcare blogs using our team of top AI optimization experts. If your YMYL blog needs E-E-A-T, our AI writers provide the authority and credibility your blog needs. Sign up to get Early Access to this service.
References
Recommended reading: