What is the Meaning of YMYL – Your Money or Your Life?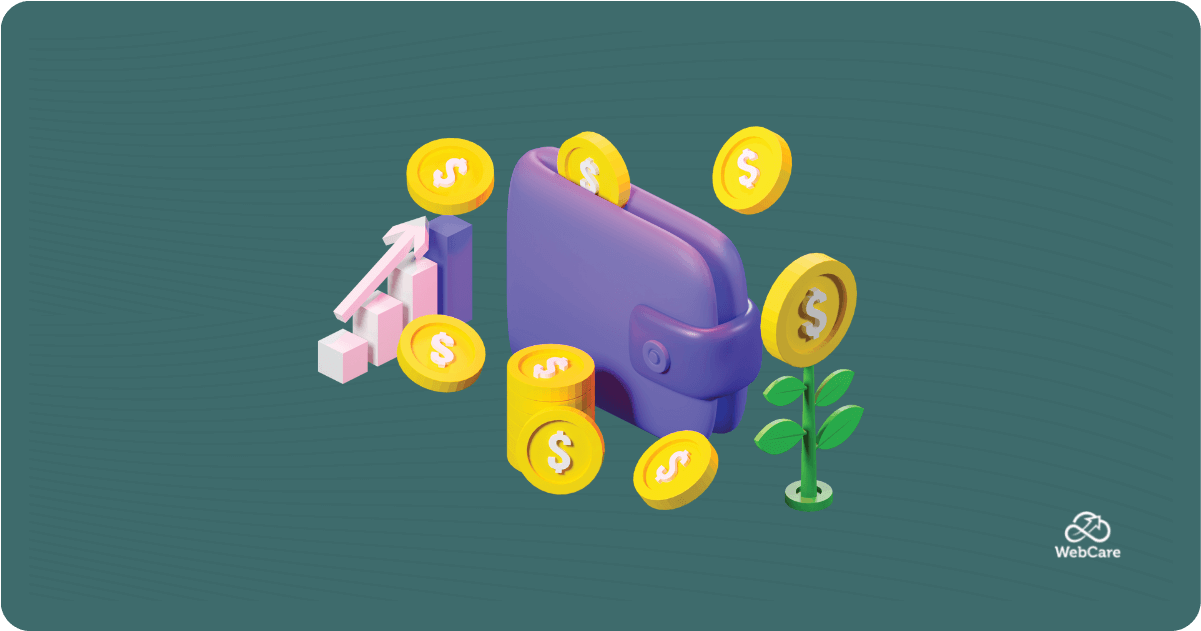 With information available at the tap of your fingers, or even available on voice demand, surely you must have wondered how factual these search results are?
Can the writing be trusted? And the authors? What if the information is intentionally deceptive?
Such information affects our decisions, our lifestyles, health and even our mood. It even affects those closest to us because of actions we may take.
How then do we escape misleading or inaccurate information? We cannot stop using Google! After all, Google is used all over the world, with over 91.43% market share worldwide, reported by Statcounter.
The good news is that Google has already put measures in place to validate information. Google is always tweaking its algorithm to provide the best answers and content, and one way Google does that is known as YMYL.
For the consumer, YMYL is a step in the right direction, but for the blog owner, this is an important concept to understand.
What is the meaning of YMYL?

In short, YMYL means "Your Money or Your Life."
What Then Is YMYL Content?
"Your Money or Your Life" content is a type of content that could influence one's decisions regarding health, safety, financial stability, or the welfare of society.
Google evaluates content according to algorithms to decide whether or not content could be YMYL topics. If so, they scrutinize the content even more.
If the content is misleading and could cause harm by being financially misleading, or affects someone's health, and especially if the topic itself is harmful or dangerous, then Google simply does not rank that page high.
And we all know that page two is where websites go to die…
Now, as a blog owner, you want your content to reach your readers and achieve its goals. Your content should be beneficial and accurate. It must have relevance and purpose.
Your blog articles must be classified as high-quality content – written by trustworthy, accredited writers with expertise in the field.
Just think about it….
If you battle with depression and Googled "Why do I want to sleep all the time" how bad the consequences would be if you read a post by 'Uncle Huck' suggesting you just go out more and sing a happy song. Versus, reaching verywellmind.com with accredited therapists who provided sound advice and a helpline to call.
Google would simply not rank a page authored by 'Uncle Huck' giving medical advice. Instead, Google would place verywellmind.com with accredited writers on page one, giving sound and reliable Your Money or Your Life advice to readers.
You might wonder whether or not your website ranks as a Your Money Your Life site, and therefore, if some or all of your topics fall within Google's YMYL scrutiny.
Let's look into that and how some categories are more relevant to your life and money than others.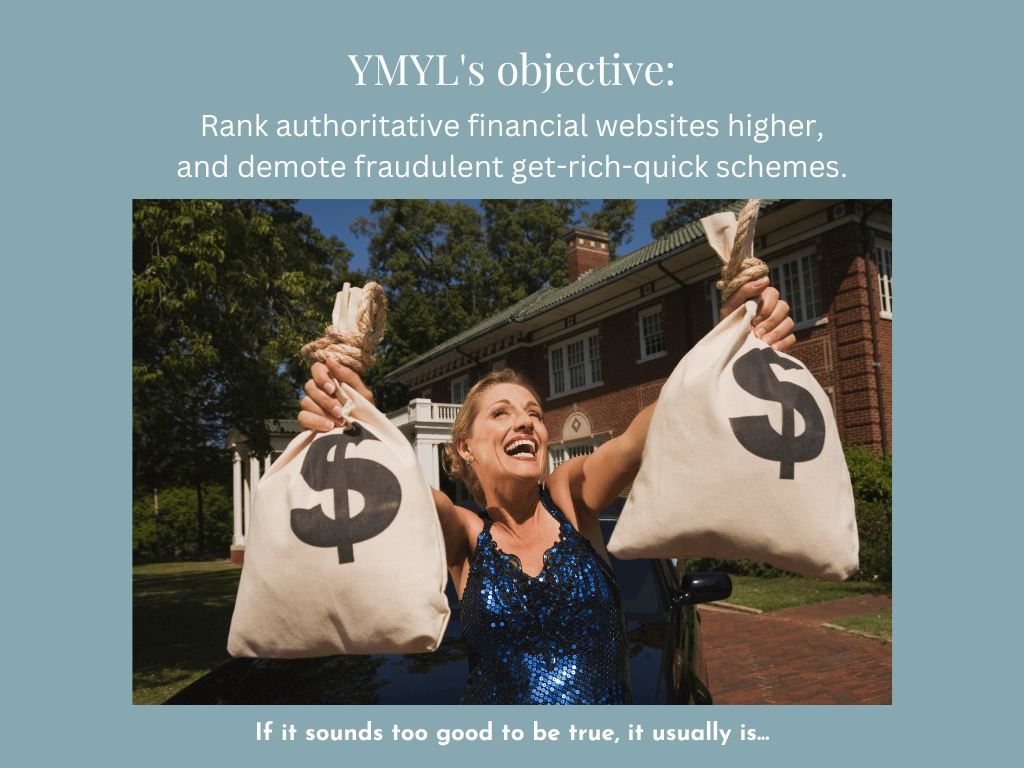 YMYL Content Examples (Niches) Or Categories
With the updated Google Search Quality Raters Guidelines, the concept of Your Money Your Life content was introduced, and provided four topic categories:
The meaning of YMYL content covers an unending wide range of topics, not just the ones listed above. To better understand what Google evaluates for Your Money Your Life, let's look at some examples:
Article 1.
An opinion topic on why you should take out a loan to live your dream life – even if you can't pay it back right now. (A clear YMYL topic.)
Explanation: This topic will lead someone into debt and affect the reader's financial stability.
Article 2.
A personal opinion topic about a graded wallet. (An unlikely YMYL topic.)
Explanation: Even though this may have something to do with money, following the article's advice will have little to no effect on an individual's finances.
Article 3.
An explanation on how to render first aid treatment. (A clear YMYL topic.)
Explanation: Inaccurate information here could even lead to loss of life.
Article 4.
A discussion on the health benefits of onions. (An unlikely YMYL topic.)
Explanation: This might be under more scrutiny because of the words "health benefits", but if the article is on a cooking website, and a few inaccurate health benefits of onions are mentioned, then it is unlikely to cause harm.
In the four scenarios above, Google will flag articles one and three as Your Money Your Life. For articles like these, the Page Quality Rating will be especially stringent, and you will have to jump through a few more hoops than normal to get your articles and website to rank higher.
How to Decide Whether a Topic Is YMYL
If this all still seems confusing, ask yourself the following to know if a topic is clearly a Your Money Your Life topic.
You would have to answer questions like:
If the answer to any of the above is "YES" then it is a YMYL topic.
Does this impact the writing of healthcare content? Absolutely! Your writing will be under more scrutiny, so let's see what the biggest search engine – Google – will look at.
Google Criteria for Your Money Your Life Content
Based on the above, you have determined that your articles, or even your whole website, are now under special scrutiny because of the meaning of YMYL content.
Next, you may wonder what criteria Google uses to rate such YMYL content, and what you can do about that to ensure a high-quality rating.
Fortunately, with the updated Search Quality Raters Guidelines, we know better how pages are rated as high quality.
So let's look at that.
Google evaluates the following criteria:
A good and clear purpose
E-A-T
Main Content should have a good topic
Web information and reputation
1. A good and clear purpose
Every blog post you create must have at least one purpose. And you have to be clear about your purpose.
Content with a clear purpose makes it easier to comprehend and helps your reader.
Let's use this title as an example:
10 ways to save money on vacation, how to stay healthy, and what to do with nasty bee stings.
The aim of your article might be to inform a reader how to have a frugal holiday, only drink bottled water, and in case of emergency with a bee sting, advice on what they should do.
Now, in this article, even though the health advice for a bee sting might be 100% correct, the purpose of the article is too confusing for Google to rank high.
2. E-A-T
EAT stands for Expertise, Authoritativeness, and Trustworthiness.
As the name implies, your content should ideally be written by an expert, have authority and be worthy to trust.
Forbes also stated that using EAT to make better YMYL content is not something you should neglect.
This is crucial when creating YMYL page content because content that gives a satisfactory EAT standard will not only earn a high rating, but would easily grab your audience's attention and help you achieve your goal.
Expertise: Let a Topic Expert (or someone with authentic life experience) create your content or review it.
Authoritativeness: If you don't have the power, then build one. You can do that by linking to authoritative sites in your niche. If you mingle with them, then soon you become one.
Trustworthiness: YMYL content pages must be trustworthy and you can do that by ensuring all articles on your website only provide accurate information.
YMYL and EAT
YMYL and EAT have various correlations. When you understand these two concepts, you will have an edge to creating better content that ranks highly on Google.
You cannot create YMYL content that does not fully satisfy the EAT rule and expect it to have a high-quality rating.
Google is sensitive to YMYL content topics, so be extremely vigilant to follow the EAT rule to get your page that high-quality rating – accredited writers and topic experts will help you get there.
There would be another article on this topic (YMYL and EAT) as this requires an in-depth approach to get the full picture. Subscribe to our feed and check back in due time.
3. Main Content (MC) should be clear
A good topic would attract the right audience, and that is what you want, right?
The Main Content (MC) of your page is that which helps you achieve its purpose. Also, it plays a vital role in rating the quality of your page.
When looking at the meaning of a YMYL article, it should definitely have clear main content. It should be descriptive and beneficial.
Spend more time and effort in creating your Main Content as it has to be distinct with a high-quality standard.
Also ensure that the Main Content of your website is in line with the MC of your article. A fishing website suddenly doling out financial advice might seem a bit fishy.
4. Website Information & Positive Reputation
Who is responsible for the content of your website? Who is responsible for creating and updating that information?
For users to trust your website and feel safe using it, provide sufficient information for them to earn their trust.
For example, if you are a therapist providing advice, your reader wants to know more about you. They expect an 'About' page where your credentials and expertise are listed. They also expect to know who are the writers contributing the content, and vague descriptions such as "Author: Admin" are not useful. Showcase your expert writers by linking their names to each article they write.
Monitor your website's reputation.
Do that by getting recommendations from experts in your niche. If you have any awards, include them on your page.
If you or your business are recognized by huge organizations like WHO (World Health Organization), that reputation should be clear for your audience to see.
In fact, I would say your reputation is your pride. Include it on your page. It has a great effect on EAT, your audience, and getting a high-quality page rating.
What is YMYL in SEO
When discussing the meaning of YMYL in SEO, this refers to page content ‌Google considers being ‌ influential to its readers and requires a high rating standard.
YMYL topics are sensitive topics and should be written with care because it can affect its readers.
There is a direct link between YMYL and ranking in Search Engine Result Pages. If your content has been flagged as YMYL and it is high quality, then that is fantastic for SEO and your page will be ranked highly. If it does not adhere to Google's search quality standards, then all your optimization efforts will be in vain.
Conclusion: The Meaning of YMYL
On a final note, remember that Google's algorithm is always changing, so that the best content page will rank higher.
Are you running a blog? Or do you want to start a new website?
Before deciding on content for your blog or website, you should know the meaning of YMYL, and what topics to write about.
YMYL topics or non YMYL topics?
If your content covers both these topic categories (i.e. YMYL topics & non YMYL topics) on the same website, then I suggest you rethink that.
Why?
The reason is that Google may find it difficult to categorize your website and may end up not ranking any of your pages.
Therefore, break YMYL & Non-YMYL Content Into Separate Sites.
It will make it easier for Google by having two separate sites and for you to earn high-quality ratings on both, than to have a site with mixed topics.
It is also smarter to have different websites for the two topic categories; one topic category for each website, as your main content for each will be clearer and for the YMYL site, you can use top quality authors to create great content.
If you liked this post and think it might contain some gems that could help other people, please share and follow.
Do you have a YMYL website? Then you need our niche services to help your blog:
WebCare crafts quality content for healthcare blogs using our team of top AI optimization experts. If your YMYL blog needs E-E-A-T, our AI writers provide the authority and credibility your blog needs. Sign up to get Early Access to this service.
References
Recommended reading: