How Blog Writing Services Optimizes Healthcare Practices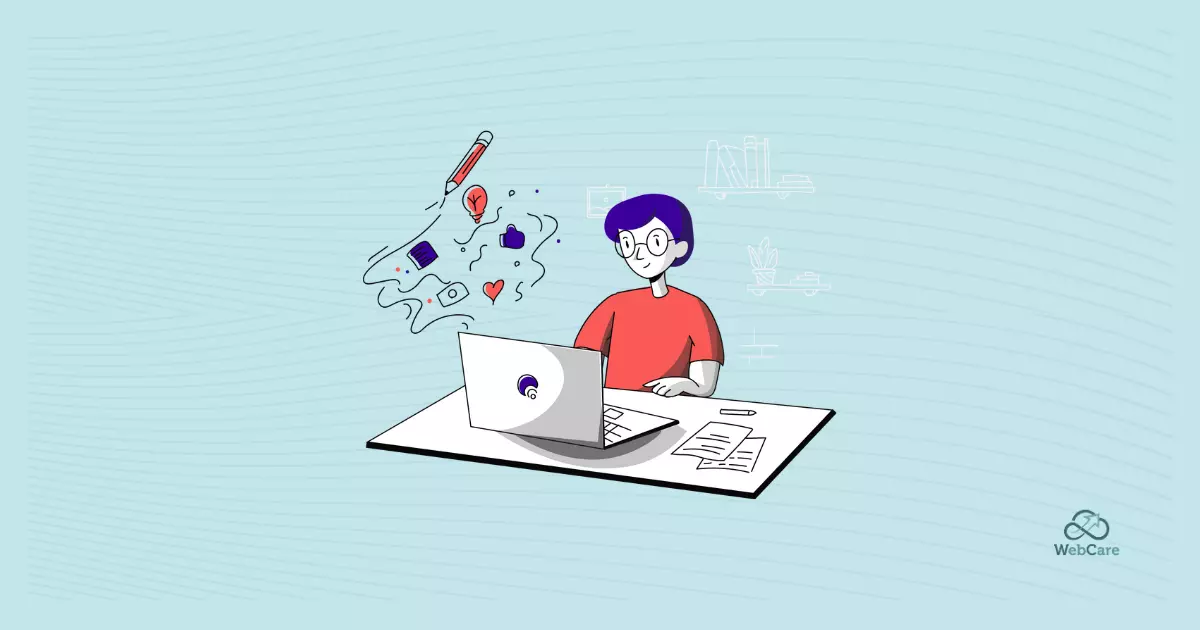 9%
That is the percentage of healthcare professionals who make use of organic marketing (based on an in-house survey).
Which means 91% of you can still tap into the exponential growth that is part and parcel of blogging. Growth that drives organic traffic to your door, helps your future clients find you and optimize your healthcare practice.
As a healthcare professional, blogging can be the key to unlocking your online presence and attracting new clients. By leveraging targeted keywords related to your niche, your blog post content drives organic traffic through strategic inbound marketing efforts.
In this article, we will explore the process of creating engaging content by identifying target audience pain points and crafting high-quality blog posts that address customer concerns. Furthermore, we'll discuss how understanding search intent plays a crucial role in developing an effective SEO strategy.
We will also delve into adapting your approach to algorithmic changes by staying up-to-date with industry trends and collaborating with experienced strategists and copywriters. Lastly, we'll compare the benefits of using professional blog writing services versus hiring in-house writers while emphasizing client ownership and transparency throughout the entire process.
Blogging: A Powerful Inbound Marketing Tool
Maintaining an active blog is a powerful inbound marketing tool. It allows businesses like yours to attract visitors naturally via social media channels, improve their site's rank on Google or Bing thanks to fresh content regularly updated, which boosts keyword rankings significantly.
Furthermore, regular blogs give you opportunities for internal linking, which further enhances the efficacy of SEO efforts while offering readers more value from their visit—all leading towards a better user experience and increased conversions!
The importance of long-term growth strategy
A common mistake made by businesses is focusing solely on short-term gains via PPC campaigns instead of investing time into developing a solid foundation for their online presence through regular blogging. By working closely with expert content writers, healthcare professionals can create a content marketing strategy that aligns with their long-term goals and attracts potential customers.
A well-planned content strategy offers several benefits:
Increase organic traffic: By targeting relevant search results, you'll attract more visitors to your website without relying on paid advertising.
Elevate brand authority: Regularly publishing informative blog articles helps establish your expertise in the industry and builds trust among potential clients.
Nurture customer relationships: An active blog allows for ongoing engagement with readers, fostering stronger connections between them and your business. This can lead to increased referrals, repeat visits, and ultimately higher conversion rates.
To maximize the effectiveness of your writing efforts while maintaining cost efficiency, consider partnering with an experienced agency specializing in writing blog posts. With their help, you can develop a winning SEO strategy that ensures sustainable growth over time rather than just short-term gains through PPC campaigns alone.
But first, if you are not sure what to blog about, let's take you through planning your content strategy.
Understand Search Intent and Comprehensive Answers
In the realm of search engine optimization (SEO), understanding search intent is pivotal to crafting a successful content strategy. This process involves identifying what potential customers are looking for when they use specific keywords in search engines. Understanding this can help you create content that meets their needs and increases your visibility in relevant search results.
Further, to rank highly on SERPs (Search Engine Results Pages), it is crucial that blogs cover all aspects of a topic relevant to searcher expectations. This section will discuss the importance of identifying target audience pain points through extensive research, as well as creating engaging blog posts that address concerns or needs effectively.
Identify target audience's pain points through extensive research
To create content that resonates with your target audience, you must first understand their pain points and challenges. By conducting thorough keyword research using tools like Ahrefs or SEMrush, you can identify popular search queries related to your niche, allowing you to tailor your blog topics accordingly.
Additionally, diving deep into online forums such as Reddit or Quora can provide valuable insights into the questions people are asking about specific subjects within healthcare.
Actionable tip: Use social media platforms like Twitter and LinkedIn to monitor conversations around industry-related hashtags for real-time insight into trending issues among healthcare professionals.
Actionable tip: Analyze competitor websites' most popular articles by examining their backlinks and shares using tools like BuzzSumo or Ahrefs Content Explorer; this helps determine which topics resonate best with readers in your field.
By identifying the most pressing issues faced by healthcare professionals today, you can tailor your blog posts accordingly.
Create engaging blog posts that address concerns or needs effectively
To ensure maximum engagement and relevance, your blog posts should not only address the pain points identified through research but also provide actionable solutions or guidance. By doing so, you position yourself as an expert in your field and increase the likelihood of readers sharing your content on social media platforms like Facebook or LinkedIn.
Focus on readability: Break up large blocks of text with subheadings, bullet points, numbered lists, and images to make it easier for readers to digest information quickly. For more on that, read our article on blog formatting tips.
Incorporate storytelling: Use real-life examples or case studies to illustrate key concepts; this helps humanize complex topics while providing practical insights into how others have overcome similar challenges.
Cite reputable sources: Support claims with evidence from credible sources such as academic journals or industry reports; this enhances credibility and encourages trust among potential clients browsing your website for reliable information about healthcare services.
In summary, understanding search intent is crucial when crafting high-quality content that ranks well on SERPs. By identifying target audience pain points through extensive research and creating engaging blog posts that address concerns effectively, healthcare professionals can improve their online visibility while positioning themselves as experts within their niche market.
Providing comprehensive answers is essential for creating content that will help your target audience find the solutions they need.
Target Long-tail Keywords with High Monthly Search Volume
In order to effectively target potential customers in the healthcare industry, it is crucial to focus on long-tail keywords. These are longer phrases that have lower competition but still maintain a significant monthly search volume.
For example, instead of focusing solely on "therapy," target more specific terms like "cognitive-behavioral therapy techniques for kids" or "anxiety counseling for children." This approach allows your website to rank higher in relevant search results while also attracting visitors who are genuinely interested in your services if, for example, you are a service provider that works with children.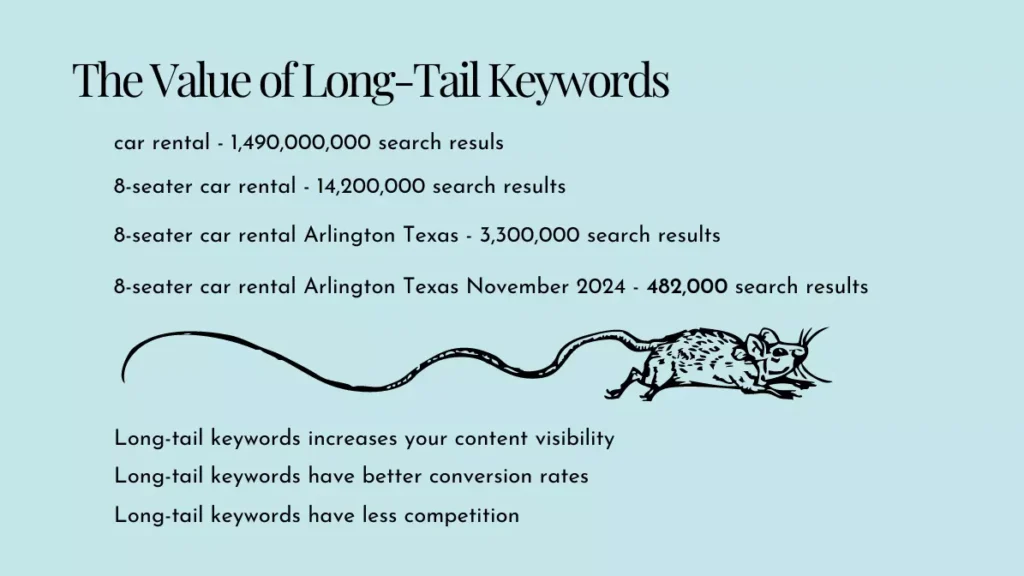 Fill Content Gaps in the Blog
A successful SEO strategy involves identifying gaps in your existing content and creating new articles that address those areas.
An effective blog should encompass a range of subjects pertinent to your profession, enabling users to access all the information they need without having to search elsewhere. Professional blog writers will conduct thorough research into popular questions and concerns within your industry before crafting engaging posts designed specifically for healthcare professionals.
Examples of potential topics:
Mental health benefits of regular exercise
The role of nutrition in cognitive function
Tips for managing stress while stuck in traffic
The importance of self-care for healthcare providers
How to establish a successful coaching practice
By addressing these topics and more, your blog will become an invaluable resource for potential clients while also improving its search engine rankings.
However, adapting to algorithm changes over time is also key in order to stay ahead of the competition and ensure visibility on search engine results pages.
Adapt to Algorithm Changes Over Time
A winning approach requires constant adaptation as algorithms change over time. Working with an experienced team of strategists, copywriters, and SEO experts ensures success in this ever-evolving digital landscape. Staying abreast of the newest algorithm shifts and using fresh tactics in accordance with current best practices is a must.
Stay updated with the latest algorithm changes
Search engines, like Google, are continuously altering their algorithms to give users more precise search results. These updates can significantly impact your website's ranking on SERPs (Search Engine Results Pages). As a healthcare professional or coach, it is crucial that you stay informed about these changes and adjust your content strategy accordingly.
Subscribe to industry newsletters: Stay up-to-date by subscribing to reputable sources such as Search Engine Journal or Moz Blog for news related to search engine marketing and optimization.
Analyze traffic data: Regularly monitor your website analytics for any sudden drops or increases in organic traffic that may indicate an algorithm update has occurred.
Audit existing content: Periodically audit and review your blog posts' performance metrics such as bounce rate, average session duration, and conversion rates to identify areas where improvements can be made following algorithm updates.
Implement new strategies based on current best practices
To maintain high rankings on search engines amidst frequent algorithm updates, it is essential that you adapt your SEO strategy according to current best practices. This includes both on-page optimization techniques such as keyword research, content creation, and internal linking as well as off-page optimization methods like link building and social media promotion.
Focus on user experience: Ensure your website is user-friendly, therefore easy to navigate, mobile-friendly, and provides valuable information that addresses the needs of your target audience. This will help improve engagement metrics such as time spent on site and pages per session.
Create high-quality content: Produce fresh content regularly that is informative, engaging, and relevant to your niche. This not only helps attract potential customers but also signals search engines that you are an authority in your field.
Incorporate long-tail keywords: Targeting long-tail keywords with lower competition can help increase organic traffic by capturing a larger share of relevant search queries. Use tools like Google Keyword Planner or Ahrefs for keyword research.
In conclusion, by staying updated with algorithm changes over time and implementing new strategies based on current best practices, healthcare professionals can maintain their online presence effectively while attracting more potential clients through improved visibility on search engine results pages (SERPs).
Let me guess: Knowing what to write about and what to focus on is all good and well, but how, you ask? Do you have the skills and time needed to write blog content?
Blog Writing Services for Healthcare Professionals
Blog writing services combine professional writing with data-driven keyword research to produce high-quality content that ranks well on search engines, such as Google. By targeting specific keywords related to a business's niche, these services can help drive organic traffic and increase brand visibility for healthcare professionals like mental health care providers, coaches, therapists, and counselors.
The role of blog writing services
Blog writing services play an integral role in interpreting search intent and implementing it into your content marketing strategy. These professionals specialize in producing high-quality blog posts, articles, and other types of web pages that align with keyword research findings and targeted keywords used by your audience.
A professional writing service doesn't just produce content; they ensure that each piece contributes to your overall SEO strategy through on-page optimization techniques such as keyword placement, meta tags, title tags, etc., thus improving your website's visibility on various search engines.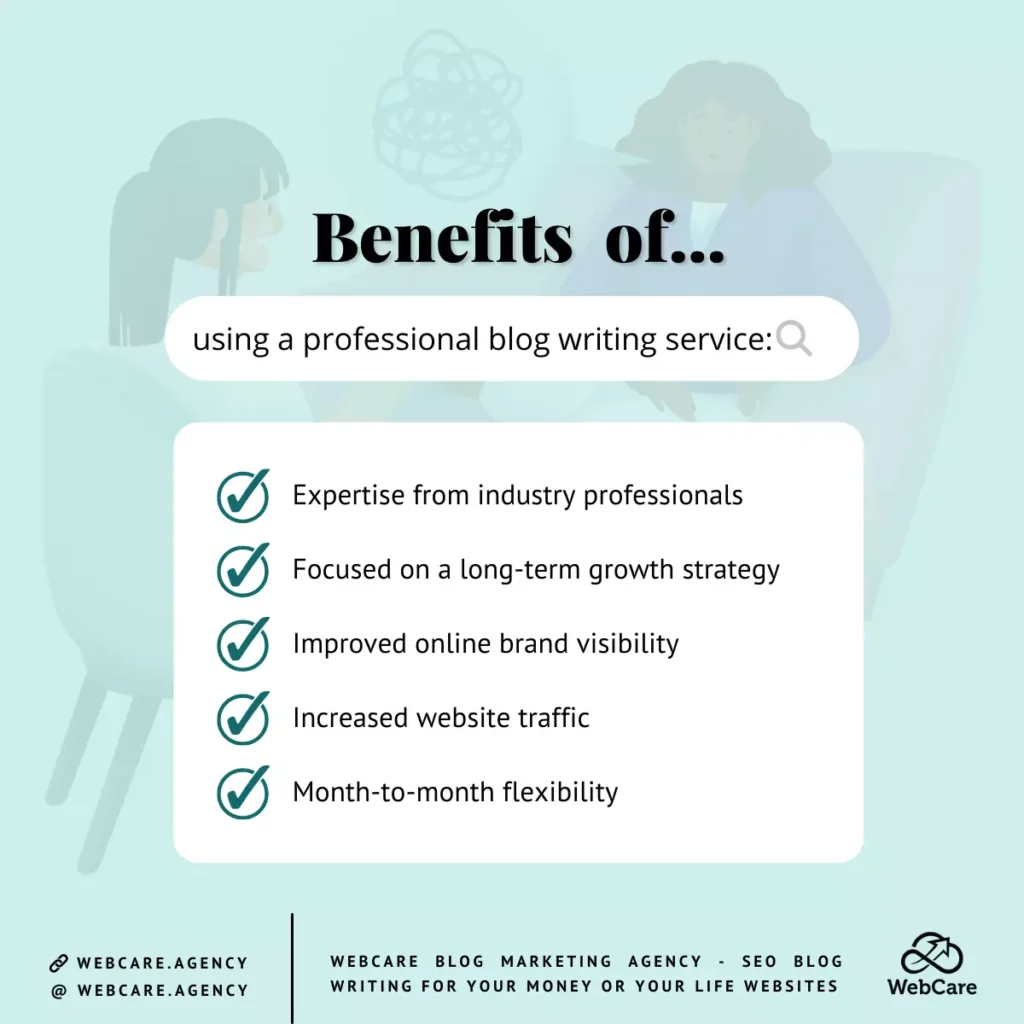 5 Benefits of Using a Professional Article Writing Service
In today's competitive digital landscape, healthcare professionals need to leverage the power of content marketing strategy to reach potential customers and grow their online presence. One effective way to achieve this is by using professional blog writing services. By using such an agency, healthcare professionals can reap a range of advantages to boost their online presence.
1. Increased website traffic from targeted organic searches
The main objective of any SEO content creation service is to produce material that will rank highly in search engines like Google. By targeting specific long-tail keywords with high monthly search volume related to your niche, these services can help drive organic traffic and increase brand visibility for mental health care providers, coaches, therapists, and counselors. This means more potential clients visiting your site through relevant search results.
2. Improved online brand visibility
An active blog featuring fresh content regularly not only helps in attracting new visitors but also keeps existing ones engaged and informed about your offerings. A consistent flow of informative articles establishes you as an authority in your field while providing valuable information for readers seeking solutions or guidance on various topics related to healthcare.
3. Flexibility without contracts or setup fees
No Long-term Commitment: Many professional writing services offer flexible packages without requiring lengthy contracts or hefty setup fees so you can test out their work before committing fully.
Pause or Cancel Anytime: You have the freedom to pause or cancel the service at any time if it doesn't meet your expectations or requirements – giving you complete control over how much you invest in content creation.
Tailored Solutions: With a range of content creation services available, you can choose the one that best suits your needs and budget. These services cater to various content requirements for healthcare professionals.
4. Focused on long-term growth strategy
A well-executed SEO strategy goes beyond just keyword rankings; it also focuses on creating valuable web pages that engage readers and encourage them to explore more about your practice or offerings.
By working with an experienced team of strategists, copywriters, and SEO experts who understand the importance of both on-page optimization (creating helpful web content) and off-page optimization (managing pay per click channels), you can ensure a comprehensive approach towards growing your online presence over time.
5. Invaluable expertise from industry professionals
Hiring professional writers specializing in healthcare means getting access to their wealth of knowledge and experience within the field. These experts stay updated with the latest trends, research findings, and regulations – ensuring that your blog remains relevant while providing accurate information for readers seeking guidance or support related to mental health care.
The benefits of professional blog content creation services are vast and varied, making it a great investment for any business. Weighing up the costs of an in-house writer versus a professional SEO blog writing service is only one element to take into account when deciding which solution fits your requirements.
Important lesson:
Professional SEO article writing services can help healthcare professionals increase website traffic, improve brand visibility online, and focus on long-term growth strategy. These services offer flexibility without contracts or setup fees and provide invaluable expertise from industry professionals who stay updated with the latest trends and regulations in the field.

In-house Writer vs. Blog Writing Agency
As a healthcare professional, you may be considering whether to hire a single in-house writer or partner with a blog writing agency for your content needs. In this section, we will discuss the cost-efficiency comparison between these two options and highlight the importance of implementing a long-term growth strategy.
Cost-efficiency comparison between hiring a writer and using an agency
Employing an internal writer can be costly due to the salary, advantages, and overhead expenses related with having a lasting worker. On the other hand, partnering with an SEO blog writing agency provides access to experienced professionals who specialize in both creating helpful web content and helping you manage your blog.
No additional overhead costs: Working with an agency providing blog writing services eliminates expenses such as office space and equipment that come along when hiring full-time staff.
Faster turnaround times: Agencies have teams of writers available which allows them to produce high-quality content quickly compared to relying on one individual.
Better results from specialized expertise: An SEO blog writing services team has extensive knowledge about search engines, keyword research strategies, and industry best practices – ensuring better outcomes than what might be achieved by someone without dedicated experience in this field.
No need for additional staff: Besides the writer you've employed, you would need someone to create graphics for each blog post, someone who will upload the articles to your content management platform, such as WordPress, and someone to proofread, edit and optimize the content (link to related articles) and then possibly still someone to manage this whole content creation process. To cut down on such expenses, an agency that provides a done-for-you service can take care of everything.
Why hire professional blog writers?
Hiring professional article writing services saves time, allowing healthcare professionals like therapists or counselors to focus on core business activities without worrying about maintaining consistent blog updates themselves.
Additionally, experienced writers understand the intricacies involved with creating engaging quality pieces following best practices related to tone-of-voice consistency across different platforms, ensuring uniformity in brand messaging, thereby strengthening customer loyalty over time.
For many, the reason they established their practice was to help people, and spending time writing detracts from doing what they want to do in life – work with people. Just as helping people might be your passion or skill, writing is not a universal skill. There's a reason you'll find professional healthcare blog writers willing to help you, and that is because they love writing and are vert adapt at creating high quality content.
But now, let's look at the legalities regarding content creation for your healthcare blog. 
Important lesson:
Healthcare professionals looking to improve their online presence through SEO blog content have the option of hiring an in-house writer or partnering with an agency. While an in-house writer can be expensive, working with a specialized agency provides access to experienced writers and eliminates overhead costs while allowing for a long-term growth strategy that increases organic traffic, elevates brand authority, and nurtures customer relationships.
Client Ownership and Transparency
Healthcare professionals must possess full authority over their digital presence in order to effectively employ a content marketing strategy. Blog writing agencies understand this need, ensuring that clients retain complete ownership of the content provided while maintaining transparency throughout the process.
Retaining full ownership of provided content
When you invest in professional SEO blog writing services, rest assured that you will have full ownership rights to all content created on your behalf. Once a piece has been provided, it becomes exclusively yours to employ, change or reuse without any limitations. By retaining ownership, healthcare providers can build an authoritative library of high-quality content tailored specifically for their target audience.
Administrative access for monitoring progress
Beyond owning the actual content produced by these expert writers, clients also receive administrative access to monitor progress at every stage of the writing process. With real-time updates and transparent communication channels available 24/7, healthcare professionals can stay informed about ongoing projects and make adjustments as necessary based on performance metrics or changing business objectives.
Frequent Reporting: Regular reports are provided by most reputable SEO blog writing agencies so clients can track keyword rankings improvements and overall website traffic growth resulting from fresh content published regularly on their site.
Data-driven Decisions: As part of a comprehensive search engine optimization (SEO) strategy, these services also offer insights into potential client's behavior and preferences. This data can help inform future content creation decisions to ensure the blog remains relevant and engaging for its readers.
Collaborative Approach: By maintaining open lines of communication with their clients, blog writing service providers encourage collaboration on topics, keyword research, and other aspects of the content marketing plan. This ensures that each piece is aligned with both client goals and audience needs.
In today's competitive online landscape, it has become increasingly important for healthcare professionals to establish a strong digital presence through an active blog filled with high-quality content optimized for search engines. Partnering with professional writing services not only helps achieve this goal but also offers peace of mind by ensuring full ownership rights over all produced materials while providing complete transparency throughout the process.
To maximize your practice's visibility in relevant search results and attract more potential patients or clients to your website, consider investing in expert blog writing services. By using a specialized team that is knowledgeable in crafting SEO-optimized healthcare content to engage your target audience, you can maximize the success of your online business.
FAQs in Relation to Blog Writing Services
Conclusion to Optimizing Healthcare Practices with Blog Writing Services
In conclusion, healthcare professionals, mental health care professionals, coaches, therapists, and counselors can benefit greatly from using blog writing services. By targeting specific keywords related to their business niche and driving organic traffic through strategic inbound marketing efforts, they can increase website traffic and improve visibility by filling content gaps.
Understanding search intent in SEO strategy is crucial for crafting engaging content that addresses customer concerns. Adapting your approach for algorithm changes requires keeping up-to-date with the latest trends and collaborating with experienced strategists and copywriters.
Some believe that hiring an in-house writer is a cost effective solution for immediate content needs. However, to ensure long-term growth of your blog and business it is best to consider working with an blog writing agency that provides transparency and client ownership.
So if you're looking to improve your online presence by growing your blog, consider working with WebCare Agency's professional article writing services today!
WebCare crafts quality content for healthcare blogs using our team of top AI optimization experts. If your YMYL blog needs E-E-A-T, our AI writers provide the authority and credibility your blog needs. Sign up to get Early Access to this service.
If you liked this post or think it might benefit someone else, please like and share!