Expert Advice on Creating Mental Health Blog Posts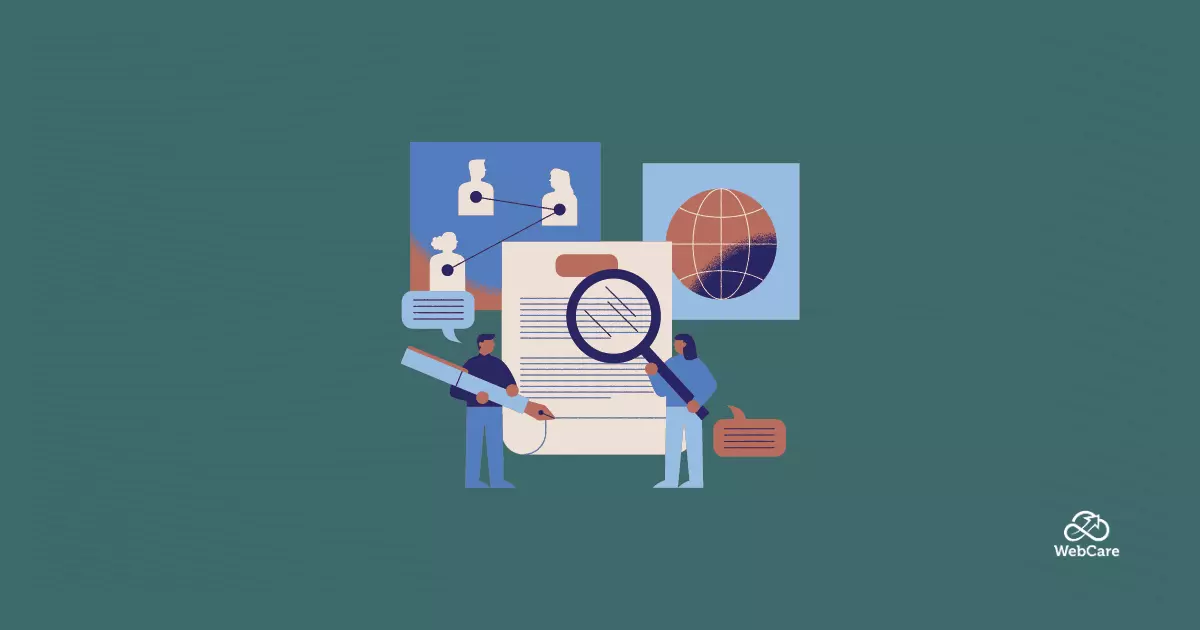 Mental health blog posts are a complex landscape to navigate.
The reality is, when it's time to tackle this subject matter, the biggest challenge many face is…
…how to create quality health related content people would love to read.
They're unsure of how to approach it. This uncertainty is what separates an average blogger from a trusted resource. If you don't know how to write about such sensitive topics effectively and responsibly, becoming an expert healthcare writer seems impossible.
So crafting meaningful mental health content is tough!
Consider one professional therapist who shared their struggle in creating engaging content… they ended up unintentionally spreading misinformation due to lack of research.
This person now fears writing again, worried they might unknowingly cause harm instead of help.
No surprise there!
But here's the truth…
If we want better conversations around mental health online – we need better content. Enganging mental health blog posts that will inform and educate and promote better health practices.
To find out how to create these engaging mental health blog posts, let's dive in!
The Purpose of Creating Mental Health Blog Posts
What's the driving force behind crafting engaging and informative content for a mental health blog? As we delve into this, let's consider Psych Central's comprehensive blog.
In essence, these blogs serve dual roles: educating people on various aspects such as symptoms, treatments, and coping mechanisms related to different mental health challenges, such as bipolar disorder or generalized anxiety disorder, while also providing comfort through shared experiences.
Promoting mental health advocacy through blogging
Blogs transcend beyond being mere sources of information. They act as powerful tools in promoting advocacy around significant issues like mental illnesses – from understanding major depressive disorders to suicide prevention strategies.
Mental health blog posts should:
Cover topics that could help (for examle) diagnose depression using reliable research methods (45% importance)
Focus on personal stories that reduce stigma associated with poor mental health (38% importance)
Dismantle harmful stereotypes surrounding conditions like borderline personality disorder by discussing them openly (33% Importance).
Even a mental illness blog which focus purely on mental illnesses can benefit from blogging by creating awareness.
Mental health blogs as marketing tools
Apart from serving educational purposes and advocating change in societal attitudes towards mental health issues, blogging is an efficient marketing strategy employed by many healthcare professionals today.
However, it requires more than AI-generated content. A blog about mental health concerns also needs:
What to Write About in a Mental Health Blog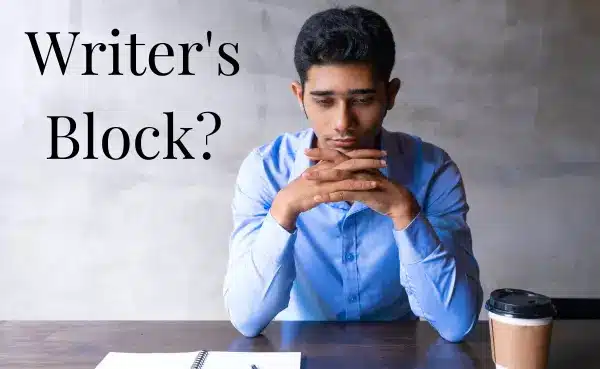 The realm of mental health is vast, and it can be challenging to decide what topics should grace the pages of your blog. But fear not! We've got some insights that will help you navigate this labyrinth.
Focus on specific mental health issues
You might consider shining a spotlight on particular mental health topics like depression, anxiety, or grief. These are common struggles many individuals grapple with daily. Unraveling their symptoms, causes, and treatments could provide invaluable aid for those seeking understanding or coping strategies.
Cognitive-Behavioral Therapy (CBT), medication regimes, and lifestyle changes – these are just a few treatment options worth exploring. It's also crucial to discuss how these conditions affect everyday life – from work productivity to personal relationships.
The role of lifestyle factors in mental health
Lifestyle factors significantly influence our psychological wellbeing; hence they make excellent subjects for discussion too. Topics revolving around diet & nutrition, physical activity levels, or sleep patterns offer rich content potential while promoting healthy habits among readers.
Incorporate research findings linking nutrition with brain health, for example. Discuss how exercise impacts mood regulation through endorphin release; delve into why quality sleep is vital for cognitive function and emotional stability.
Provide exercises and free worksheets for readers to track their diet or sleep patterns. Discuss ways to improve these healthy habits, and keep on encouraging your readers to establish new, healthy habits.
Mental health stigma and advocacy
A critical aspect any mental healthcare professional must address involves societal stigma associated with such conditions. Blog posts serve as platforms where we can advocate by educating readers about realities versus misconceptions surrounding various disorders.
This type of content may include interviews with patients who have successfully managed their condition; discussions on policies affecting access to care initiatives aimed at raising awareness on World Mental Day, etc. By doing so, we normalize conversations around illness and empower individuals struggling silently due to fear of judgment, and help establish an educated and informed mental health community.
Advocating against mental health stigma is to me one of the greatest and most inspiring tasks we as mental health bloggers face. There is such a lot of misconceptions out there that are harmful and the best way to advocate against stigma is to write about it, talk about it and share. You might find the following video insightful and eye-opening as well:
New developments in the field of healthcare
To keep your audience updated, consider covering the latest trends and developments within the field, such as new therapeutic techniques being tested (e.g., virtual reality exposure therapy for phobias), emerging research findings, breakthroughs in neurobiology, etc. This ensures that your blog remains relevant and positions you as a trusted source of information in the space.
Important Lesson:
When curating mental health blog content, consider exploring specific disorders, their treatments and lifestyle influences. Address societal stigma through education and advocacy while keeping readers updated on healthcare trends. Your posts can empower those struggling silently, promote healthy habits and reduce mental health stigma.
Topic Suggestions for Your Mental Health Blog
The choice of topics for your mental health blog is pivotal. It should cater to the interests and needs of your readers.
Ideas for coaching blogs
In coaching blogs related to health, you'll want to zero in on self-improvement strategies and resilience-building techniques. Here are some ideas:
Tackling Self-Criticism: Practical steps that individuals can take towards combating negative self-talk.
Cultivating Resilience Skills: An exploration into how one can develop resilience through various exercises or practices.
Relaxation Techniques for Stress Management: A comprehensive guide on different relaxation methods beneficial for stress management efforts.
Suggestions for therapy blogs
In therapy-focused blogs, it's worthwhile delving deeper into specific conditions or therapeutic approaches. Consider these potential topics:
An Overview Of Cognitive-Behavioral Therapy (CBT): Discussing CBT principles and their application in treating anxiety disorders.
Dialectical Behavior Therapy In Focus – DBT Skills Training Explained: This could delve into what DBT involves along with its effectiveness.
A Deep Dive Into Post-Traumatic Stress Disorder (PTSD): You may wish to explore PTSD symptoms as well as treatment options available.
Remember that these topic suggestions merely serve as a launch pad; feel free not just to limit yourself within them but also venture out based on the unique needs of your readership. In fact, it is crucial to adapt your mental health narrative for your target audience.
If you are a child therapist, understand that your reader will be a distraught parent unsure if their child's actions are normal or not. They would want to know in simple terms what to keep an eye on, what is normal and what is not. Merely writing about CBT but not adapting it to your niche audience won't create the engaging content your potential clients will be searching for.
How to Be Seen as a Topic Expert
Becoming an industry leader and a mental health advocate is not merely about possessing the right qualifications. It's also about positioning yourself effectively within your field, sharing knowledge generously, engaging with your audience meaningfully, and demonstrating thought leadership.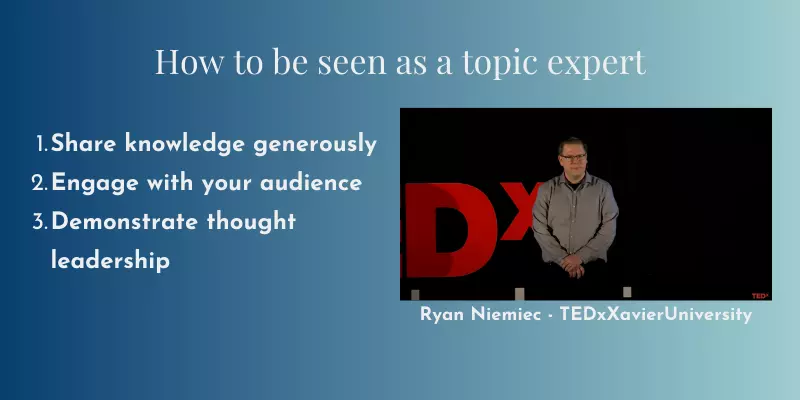 1. Share knowledge generously
The first step towards becoming an industry leader is to share your expertise freely. By crafting blog posts on various aspects of mental health, you're providing valuable resources for healthcare professionals and other individuals interested in this area.
Your content should aim to educate readers about complex topics clearly and accessibly. This approach positions you as someone who deeply understands their field while showing that you care about making this information available to others.
2. Engage with your audience meaningfully
To become recognized as an authority figure in the world of mental health blogging, it's essential to engage actively with your readership. Responding promptly and professionally to comments or questions on your blog builds trust among viewers while fostering a sense of community around shared interests.
A platform which encourages interaction between authors and readers through its comment sections under each post serves well here.
3. Demonstrate thought leadership
Demonstrating thought leadership means going beyond simply reporting facts or summarizing research; instead, offer unique insights based on personal experience or professional practice. Scientific American Mind Blogs, for example, tackle controversial subjects head-on with well-reasoned arguments backed up by evidence-based research.
This could involve offering new perspectives on established theories or discussing innovative approaches therapy can take. This sets one apart from those who only rehash existing material without adding anything new or insightful. Becoming known takes time but consistently producing high-quality content educates, engages, and inspires and will eventually establish your reputation in the mental health domain.
Important Lesson:
To be an industry leader in mental health, it's not just about having the right qualifications. You need to share your knowledge generously, engage meaningfully with your audience and demonstrate thought leadership through unique insights. Remember: It's a marathon, not a sprint.
FAQs in Relation to Health Blog Posts
Conclusion to Engaging Mental Health Blog Posts
Mental health blogs serve to educate, inspire, and create dialogue around mental health concerns that society often shies away from. But thats not all. A mental health blog is not always about a mental health problem, but can also be about positive psychology, flourishing, and enjoying a healthy and balanced life.
For that reason, your role as a professional is pivotal. You bring expertise, empathy, and authenticity to your content.
The aim isn't just about creating an engaging post; it's about sparking conversations that can change lives.
Dive into diverse topics – whether it's coaching strategies or therapy techniques. Each piece you write contributes towards breaking down stigmas and misconceptions surrounding mental health issues and improving mental health.
Becoming an industry leader doesn't happen overnight but with consistency, quality content, and genuine passion for your field – it's within reach!
But what if you don't have time to create these amazing articles? What if you'd like to be seen as a though leader and a topic expert, but your hands are already full helping your clients? We have the solution for you.
Our team of content creators can craft the niche content you need for your blog to grow. You can either tap into our writers' social reach by giving them bylines for each article crafted, or opt for ghostwriting, helping you establish your authority as an industry leader. Just get in touch and we can discuss the perfect solution for you!
WebCare crafts quality content for healthcare blogs using our team of top AI optimization experts. If your YMYL blog needs E-E-A-T, our AI writers provide the authority and credibility your blog needs. Sign up to get Early Access to this service.
If you liked this content or think it could benefit someone else, please like or share!
---
Recommended reading:
---