Voice Search: How to Optimize Your Blog for the Future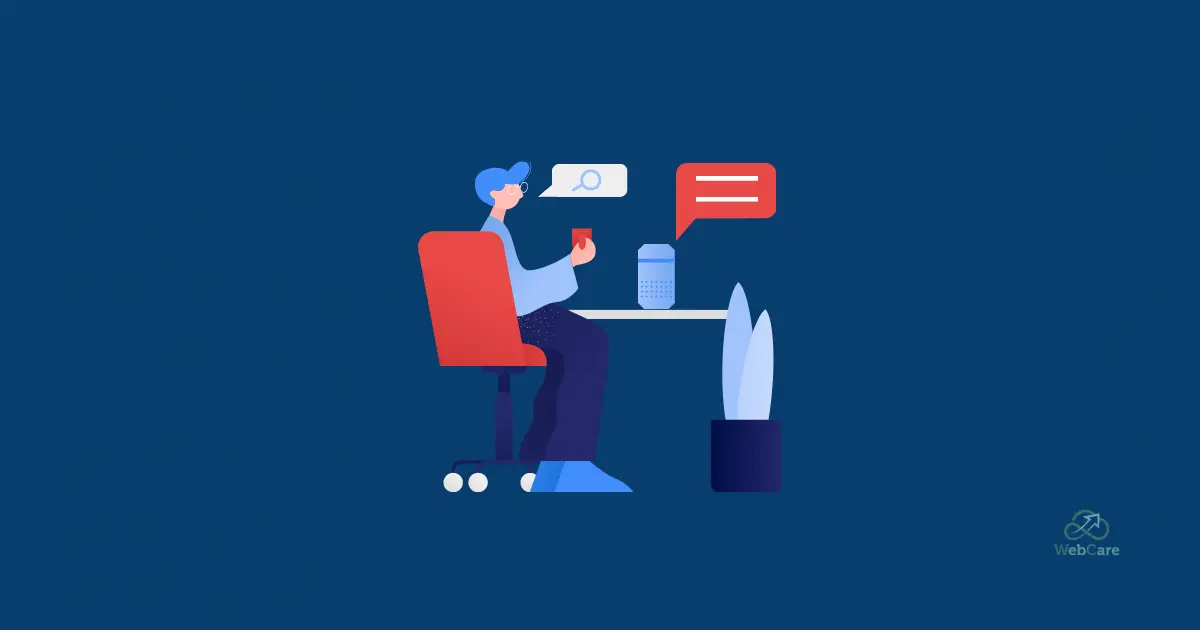 Although voice search has been around for a while, it's becoming more and more popular. And that's because it's changing the way we search for information. Instead of typing keywords into a search engine, you can use your voice to communicate with devices like Google Home and Amazon Echo.
According to Think with Google, 27% of the world's population is using voice search on their mobile phone. With change being inevitable, you need to change how you optimize your blog content for the web.
In this article, you will learn what voice search is and how you can optimize your blog for the future. Additionally, you get tips on making your content easier to find and rank higher in search engine results pages.
Voice Search Tips for Blog Owners
Voice search is quickly becoming the norm when it comes to finding information, and that means you need to optimize your blog for it. There are a few key strategies you can use to make sure your blog is ready for the future of search. Content that ranks high in desktop search is also likely to rank top in voice search.
According to Backlinko, approximately 75% of search results rank in the top three for that query.
Voice-enabled search improves users' experience in search engines. You have to tailor your posts toward content that the users are likely to ask for.
Use local SEO strategies, such as adding location-specific keywords to ensure you're showing up in searches related to specific geographical areas. By doing this, you'll be able to capture local traffic more effectively.
Also, optimize natural language and conversational phrases. Try to think like a customer with common queries that would make sense for your industry, so that's what people will be searching for. For example, if you're offering meditation classes, add phrases such as "what are the best meditation classes" into the content and metadata.
Here are other things to keep in mind:
Voice Search Statistics
To understand how important voice-enabled search is, it's important to know the statistics that surround it.
Current Voice-Enabled Search Trends
Voice-enabled search is changing how individuals interact with technology. It's only a matter of time before it dominates the online space. Consumers are relying on voice search to get faster results. More businesses are also leaning in the same direction.
People are using search to locate and identify local establishments. Searches for 'your service near me' have increased, which has promoted local business (think with Google). 46% of consumers use voice-enabled search to look for local businesses (Brightlocal).
Most of the voice inquiries come from mobile searches. Most people use their mobile phones differently to search for things. Lastly, voice-enabled search is efficient. People use it to complete things faster. It's one of the reasons voice searches are expanding.
How Do People Perform a Voice Search (Google, Siri, Alexa)?
According to a survey conducted by Statista, the most used digital assistants as of 2019 were Siri and Google Assistant, with each at 36%. Alexa came third with 25% and Cortana at 19%.
People use voice-enabled search to phrase their query differently than if they were typing it out.
That's because voice-enabled searches are more conversational, and it's more like you are talking to your friend. Once you inquire about anything, voice-enabled search allows website owners to provide answers that website consumers need.
This means that questions like "What is the best way to optimize my blog for voice search?" are common on Google, or commands such as "Alexa, show me content about optimizing my blog" for Alexa users. Once you feed a command to a search tool you use, you'll get an answer.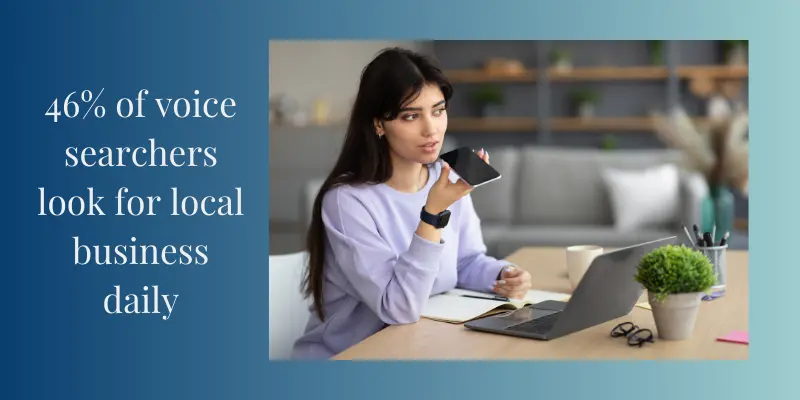 How to Optimize Your Therapy Blog for Voice Search
People seeking your services or information will use different words they might have typed to find the same information using voice-enabled search. Here are a few tips to keep in mind.
1. Local voice-enabled search – typical queries and results
When you optimize your therapy blog for voice search, it's important to consider the types of queries people will be asking. The more localized your content is, the more likely it is to be found in a voice-enabled search. Remember, 46% of voice searchers look for local businesses on a daily basis.
For example, someone looking for a therapist near them might say something like "find me a therapist near me" or "find me a child psychologist in my area" or "where can I find an executive coach in Mill Valey, California?"
You can create content specifically designed to answer these questions and ensure it contains relevant keywords. You should also aim to make sure the content is easy-to-understand, as this will help ensure that your blog is found by voice-enabled search.
2. Voice search for business – important points to remember
58% of people have used voice search to find information about a local business. Voice search-optimized content can be incredibly beneficial to your business, but there are some key points to remember.
Voice Search and Content
When it comes to voice-enabled search, less is often more. People who rely on voice search want to find the information they need as quickly as possible. They don't have time to wade through long-winded explanations or overly descriptive descriptions. Brevity is key when crafting your voice search content.
Here are a few other tips for voice search and content:
1. Use conversational keywords and questions
According to a study conducted by Backlinko in 2020, 14.1% of Google searches contain who, what, why, how, etc. Using conversational and question keywords helps match questions and results in Google. Remember that Google loves short and direct answers.
2. Construct a FAQ with short answers
Create concise content that can answer questions quickly. Structuring your content in the form of FAQs is one way to do this. It helps keep your content short and snappy. Remember, voice assistants respond best to short, clearly phrased questions.
3. Be multilingual
It's also a plus if you can go multilingual.
The more languages you offer, the more people you can reach with your content. To accomplish this, look into translation services and other technologies that can help you quickly convert your content into another language.
Voice Search and SEO
Voice-enabled search has become a popular way to find information online quickly, and optimizing your blog for this type of search can really help you get ahead of the competition.
Here are a few tips for voice seach and SEO:
1. Website authority and domain
When it comes to voice-enabled search, website authority and domain are very important. Google uses over 200 factors to rank a domain. Always ensure that your content is up-to-date, relevant, and optimized with keywords that are likely to be spoken. This will help your blog rank higher in voice-enabled search results.
2. Improve user experience, mobile responsiveness, and page speed.
Improving user experience and mobile responsiveness will also give you a huge leg up when it comes to search optimization. 52% of mobile users say that a bad mobile experience makes them lose faith in the company.
Page speed and mobile responsiveness will play a major role in the success of your site. Ensure to optimize these aspects!
3. Featured snippets and schema
Featured snippets and schema can improve your chances of appearing higher in voice search results. 36.4% of voice search results come from pages that use Schema. Schema markup is especially important when it comes to local businesses.
If users are searching for something in their area, then Google will show results with local information first, so setting up a schema for things like business location and opening hours can help you get shown more prominently in voice-enabled search results.
Featured snippets are short excerpts from your website that appear as answers to users' queries, while schema is code added to web pages that helps provide additional information about the page for search engines. Both of these features can help make sure that your website is more likely to appear at the top of voice-enabled searches.
Frequently Asked Questions
Conclusion to Voice Search: Optimizing Your Blog for the Future
There you have it! A few simple tips to help optimize your blog for voice search.
Voice search is only going to become more popular and prominent as time goes on. Optimizing your voice search content means placing yourself in a prime position to take advantage of this rising trend and stay ahead of the competition.
Also, people tend to ask more detailed, specific questions when using voice search instead of typing. This means optimizing your content to answer these questions effectively will help you capture the audience's attention.
It also helps to keep in mind that people typically use voice searches for local results. So, if you are a business with a physical location, optimizing your website for voice search can certainly be worthwhile. Tools like Google My Business can help you get set up with local SEO and rank better in local searches.
Remember, as more and more people adopt voice search as their preferred method of search, it's important to stay ahead of the curve. Ensure your blog is voice search-friendly.
If you need help optimizing your blog for voice search or creating the top quality content you need to rank, we provide a Done-For-You Service that will make your life much easier.
WebCare crafts quality content for healthcare blogs using our team of top AI optimization experts. If your YMYL blog needs E-E-A-T, our AI writers provide the authority and credibility your blog needs. Sign up to get Early Access to this service.
If you liked this content or think it could benefit someone else, please like or share!