Understanding SEO for Writers – 6 Excellent Points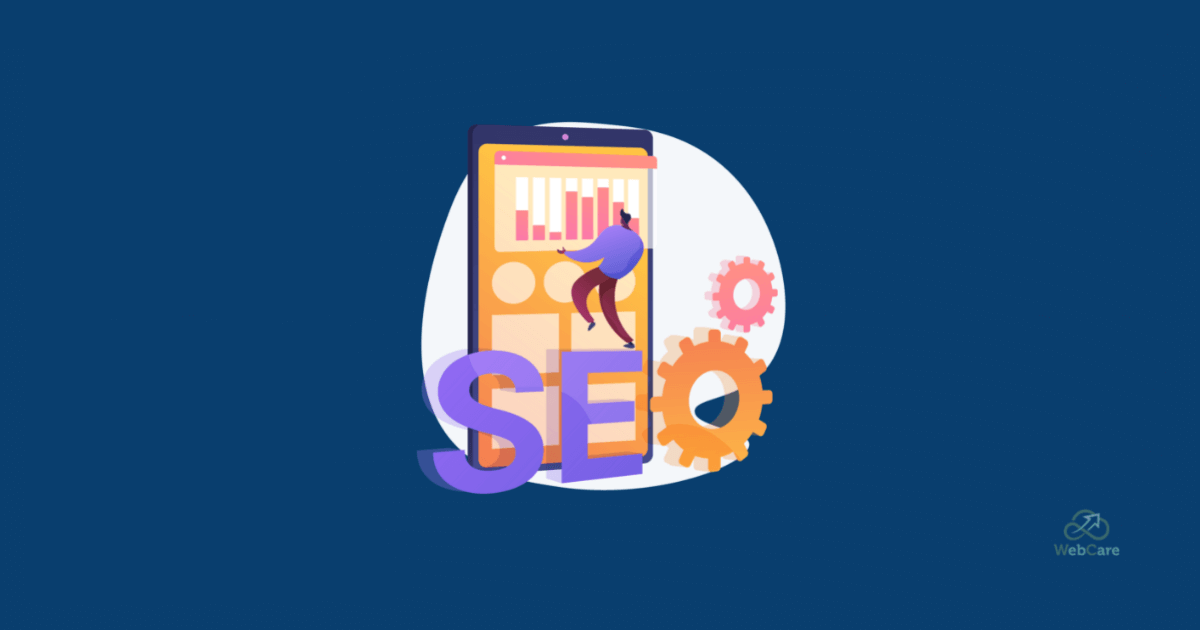 Should SEO matter for blog writers and should they know the meaning of it, what it does, and how it works? The simple answer? Yes!
You may be a writer with diverse skills, but blog writing is a bit different. When writing for a blog, you also have to keep this thing called 'SEO' in mind. It complicates matters, and everyone assumes you know everything about it.
Well, let's face it, not everyone does. And who can blame them? SEO is a huge industry with lots of moving parts, and the goalposts are constantly changing.
So, to help you out, in this article I will define what SEO is and provide helpful tips to make you a formidable SEO writer!
What's the Meaning of 'SEO'?
SEO, which stands for Search Engine Optimization, is the process of improving a website to increase its visibility on search engines when people search for products and services.
Its aim is to improve a website's position on search results pages because the more a website is visible, the more the brand will attract attention from existing and future customers.
Why is it important?
According to a Databox survey, 70% of marketers cite search engine optimization (SEO) to be the better channel for driving sales than paid advertising.
Since millions of people are always searching for things on the web, SEO traffic can be very powerful for a business because that is very specific, high intent traffic. It results in more people visiting the website.
If improving SEO is on your mind, you might wonder how long does this optimization process take to work? Results take roughly 6-12 months and by results, I mean an increase in traffic and associated leads or conversions.
Of course, this doesn't mean your work is done and you've achieved your goal by this timeframe, but you should see progress within this period.
How to Be a SEO Writer
According to The Business Research Company, the value of global search engine optimization services was nearly $46,656.2 million in 2020. It's a growing and financially rewarding industry, so you need to make sure you are getting your money's worth.
SEO writing requires high-quality skills, but how do you do it right and please search engines, your readers, and your boss in one setting?
Unlike traditional copywriting, where a writer has the freedom to craft brilliant copy with minimum constraints, an SEO writer needs to combine the same high-quality copy with targeted search items. Without making it obvious.
So, how do you become a seasoned SEO writer? What do you need to know to write SEO-friendly blog posts?
Have a look at these helpful tips to help get you started.
1. Keywords
The first important step in the SEO writing process is the keyword. And even though we call it 'keyword', it is a phrase that contains many words.
While it might not be common, clients sometimes ask writers to do keyword research for the content they write, so it is a good idea to get clued up on it. More on that below.
Usually the client would give you a topic, such as 'proofreading service.' With a bit of creativity, you'll decide the title 'How to Pick the Best Proofreading Service' would be perfect, and the keyword would then be 'best proofreading service'
Once you know, then you can include that keyword in your text and get down to writing and use the keyword naturally. When someone reads your text, they should have no idea that a keyword was used.
Always include your target keyword in your first paragraph / introduction. This helps the reader know they have clicked on the right link, and have ended up on the correct article.
Use related keywords in your text. This is because Google is getting smarter and uses the latest algorithms that look for related keywords and synonyms.
Related keywords, in the sample used above, could be 'benefits of proofreading service' and 'proofreading and editing services.'
Do not overload your text with the focus keyword because not only will that look less attractive, but will also harm your rankings.
2. Keyword research
As a writer, it is important to know who your audience is and which keywords they search for.
That will improve your audience numbers and attract new customers to the blog.
Because people search for information and services daily on the internet, when you know what they are looking for, you'll know which keywords to use for your writing.
Most importantly, be certain the keywords you use for your post are what your ideal customer would seek on the website.
An easy way to do this is to search for the keyword yourself. At the bottom of the page (called SERP – Search Engine Results Page) you will find related keywords.
There are plenty of great keyword research tools out there, but I've found this quick hack and easy way to ensure you get a good grasp of a keyword, and find excellent related keywords.
3. Write unique content
It goes without saying that your writing skills need to be really good. Meaning you need to create high-quality content free of grammatical and spelling mistakes.
There is a misconception that SEO writing is more mechanical and not creative compared to other types of writing.
Obviously this is not true and more and more brands are seeing the value of SEO-driven articles and blog posts that draw in potential customers.
So you need to remember that you are not writing for yourself nor for a search engine. Get to know your audience and write for them. By identifying your audience and knowing what they want to read, you'll be able to create great content specifically for them.
Your writing should not sound too robotic and keyword-stuffed because then your audience won't relate.
Google's job is to give searchers exactly what they are looking for, so the search engine prioritizes optimized content that is relevant, authoritative, and useful.
That's why your content needs to be unique to help you stand out from the competition and prevent plagiarism.
It's also important to focus on one topic at a time when writing. Don't try to engage more than one topic at a time because you could potentially alienate and confuse your audience.
4. Structure
Pay attention to your titles' readability. Write titles that will leave your readers with no choice but to click on them. They should be engaging and compelling because after all, they are what gets people interested.
Headings help your readers know what a specific part of your text is talking about and, to help simplify things, use subheadings.
Subheadings not only help with readability but also SEO. Just don't overuse them by placing them where it's not necessary.
It is perfectly acceptable to repeat the keyword in a heading, but not every heading. Apply it naturally.
An additional boon is a Table of Content. This is a great way to make your article more appealing and easier to navigate. I heard a little bird say that a TOC helps with SEO, but I cannot verify it. Either way, if your article is long, definitely make use of it.
Use short paragraphs!
We are constantly being overwhelmed with so much content that it's difficult to keep up and as such we're becoming masters at skimming through.
By keeping your paragraphs short and precise, you are increasing chances of having your entire content read rather than skipped.
I find it easier to read content when it's broken down into small chunks instead of long paragraphs. Your readers will probably share the same sentiment.
5. Content length
The Google Panda 4.1 algorithm update recommends writing lengthy blog posts or content.
Writing long content gives you freedom to provide more information in different ways such as tables and lists.
According to Results Repeat, long, quality content is where it's at.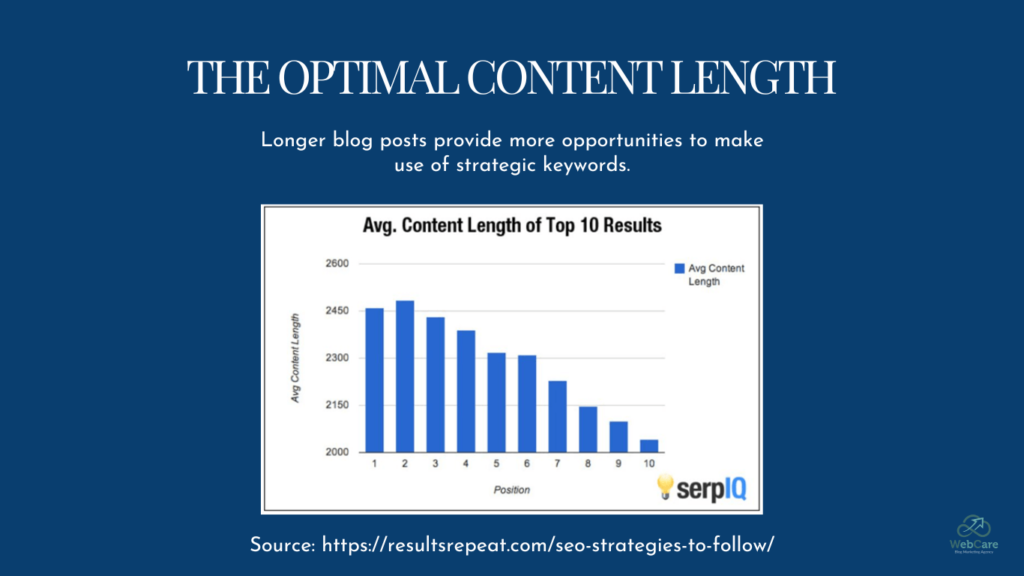 As you can see from the graph, articles of between 2300 – 2400 words perform the best in SERPs.
Now, while we may advocate for long content, that doesn't mean you can just put anything in your writing and still expect good results. It doesn't work that way.
You still need to follow SEO writing guidelines, do thorough research, and produce well-written content to earn you a top spot.
6. Use links
If you've previously written a topic similar to your current post, then link to it. This shows you have authority on the subject matter and will give your posts, the old and current, more weight.
It will also improve the post's Google rankings and your readers will get to experience and understand the different content on the site better.
An added bonus is that linking to other articles will keep people on the site longer, and they will engage more with the content.
Using links as citations to show where you got your information is a common practice in SEO.
Frequently Asked Questions
Below we share a few short answers to regular FAQ's we've come across.
Conclusion: Understanding SEO for Writers
I've only scratched the surface of this multi-million dollar industry called SEO, but I wanted to give a really focused view on what a writer should know about SEO.
As evident, for a writer to understand SEO is not only important but hugely beneficial because SEO is here to stay.
But with all the tips I've given you on becoming an SEO writer, this should now be easy.
Sure, SEO is not for all writers but if you are a blog writer, then you should learn more about it because not only will it help you get more readers but it will also bring in profit.
Plus, if you are already doing so much work, why not also work on your SEO and get two giggles from one tickle?
Now get out there and write your next charming SEO article!
If you liked this post and think it might contain some gems that could help other people, please share and follow.
If you know SEO, have great writing experience, and am interested in becoming an AO Editor or AI Optimizer (AIO), complete our signup form to be considered for joining our team of top quality AI writers.
References
Recommended reading: