12 Proven Blog Formatting Tips To Better Engage Your Readers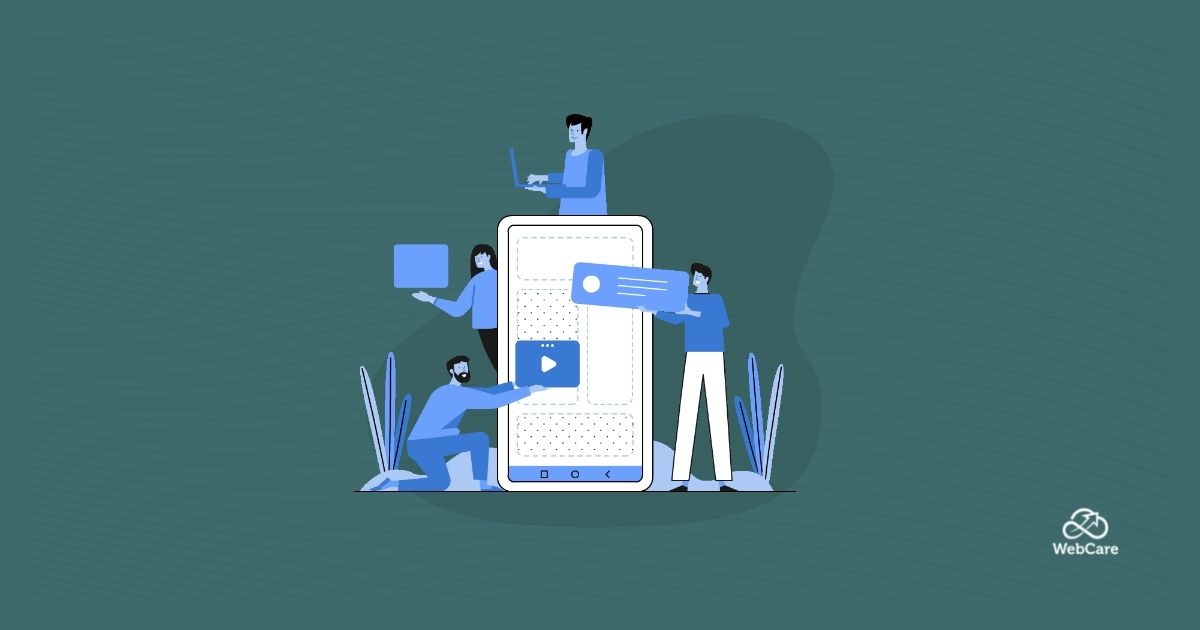 Ample research has gone into the tricky question of 'how to engage readers.' Tools such as Hotjar, which can reveal scroll depth and page interactions, have revealed which blog formatting tips work best, and what causes an instant bounce.
But besides these tools, as an editor I continuously apply a series of blog formatting tips while formatting psychology blog posts, and gladly share these tips with you.
If you want to increase the readability of your blog posts, consider these 12 blog formatting tips.
We will start with the most important point – white space, then discuss structure, emphasis, and a few additional optimization tips. Let's get started!
How to Use White Space in Writing
White space in website design and graphic design is a well-known concept.
According to Adobe:
It lets the design breathe, and be more conspicuous.
And that is exactly what we want with our blog copy as well. It should have white space around it, allowing the text to be easily read.
Above you will find two examples. One is the quote from Adobe, which as a quote is designed for emphasis. In addition, the conclusion is in one sentence, standing on its own, surrounded by space.
This concept should apply throughout your blog post, with plenty of space to allow the reader's eye to glide through your post.
This is how you implement it:
1. Blocks of text, also known as walls of text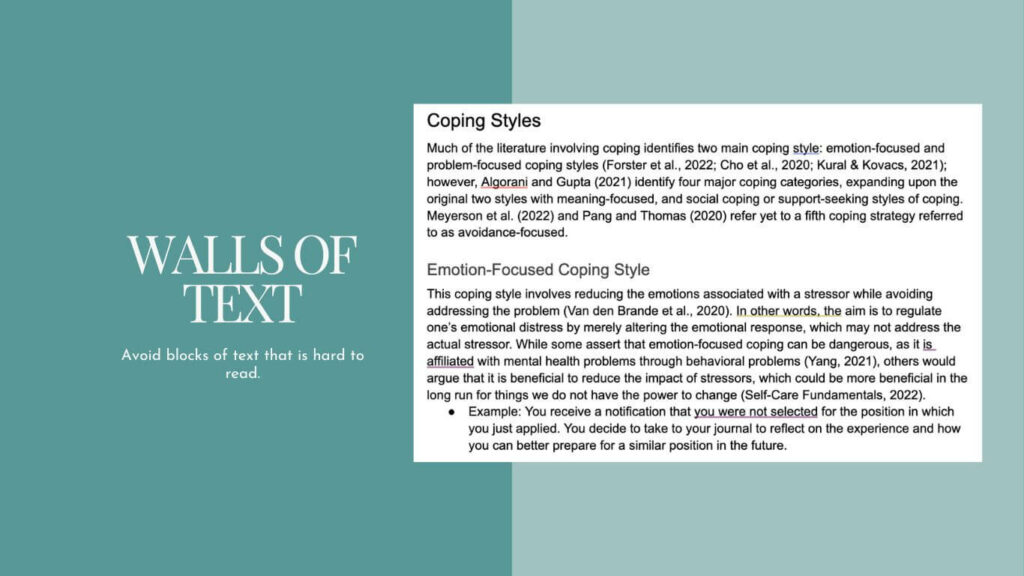 Avoid!
The last thing you want is lengthy paragraphs with continuous sentences, creating a visual wall of text. It is discouraging to the reader, difficult to follow and most often, skimmed or skipped all together.
When quoting research, as therapy blog writers often do, you may be tempted to put the whole summary in one lengthy paragraph. Don't! Rather, extract the important bits, and paraphrase or rewrite it into more common lingo. Only quote the core of the message to prevent a lengthy, unreadable paragraph.
A good rule of thumb is maximum five lines in your publication window on a desktop. Keep in mind how the paragraph will look on a mobile device as an added incentive to keep it short.
2. Short paragraphs and short sentences
To continue on from avoiding walls of text, short paragraphs create white space and are easy to read.
But not always that easy to create!
To structure lengthy text and challenging concepts into shorter paragraphs and sentences, you need to apply a few tricks.
Consider each paragraph and each sentence and ask yourself:
'How could I have phrased this better?'
Remove unnecessary words, explanations, and convoluted sentences. Although these touch more on editing than formatting, the two go hand-in-hand, and is worth mentioning.
Another approach is bulleted lists.
3. Bulleted lists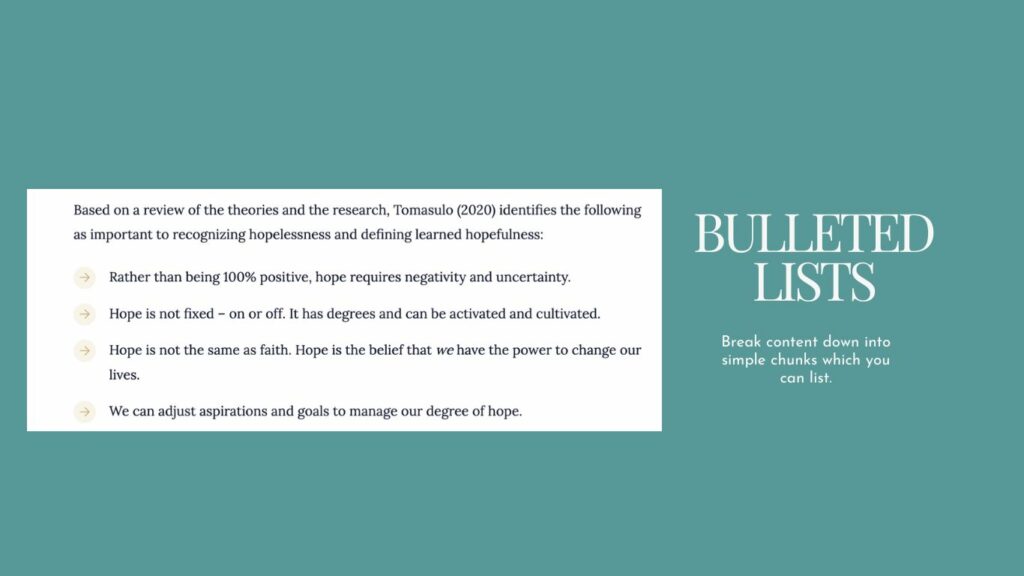 A bulleted list is a great blogger format trick, as it makes any text easier to read or scan. Since the reader's eye will scan text next to the bullet point first, try to place a heading or intro or the important point at the start. Evaluate your copy for opportunities to summarize it in points, or break it down in simple chunks which you can list.
Which version did you find easier to read and follow?
Not the greatest example, I admit, but with some creativity, you can deconstruct some paragraphs into bulleted lists.
Going through this process also helps you in future writing assignments. You'll quickly spot opportunities where a list is more appropriate, and also learn to be succinct.
Using Structure When Formatting Your Blog Posts
Structure converts a long blob of text into an eye-friendly, engaging blog post.
It goes without saying that most blog posts usually have an introduction, main body and conclusion. But breaking the main body up into bite-sized chunks can be made easier using numbered lists.
1. Numbered lists
Numbered lists is another firm favorite of mine, as it serves as a guide to the reader regarding their progress in the article. If you know a guide has ten points, and you lose a bit of interest at point seven, you'll still continue until point ten, since you know you are close to the end.
Whereas, if a guide had no points, you might feel it is dragging on too long, and stop reading.
Ideally, from the get-go, when writing your therapist blog post, you should have a numbered structure in mind.
Not only are numbers good for SEO, it is also enticing to the reader. Think about '10 Reasons Why….' or '5 Secret Tips…'
2. Headings
The title of your blog post is an H1 heading tag. Adding H2 heading tags creates structure and guides the reader. You can increase the heading depth with H3 and even H4 heading tags.
These subheadings will be used in your table of contents, and help the reader skim the content. Plus, it aids search engines with indexing your blog post.
Interestingly enough, articles with increased heading depth (H2 + H3 + H4) performs better, according to Semrush.
Always look for opportunities where you can group similar items together under a related heading.
When I wrote this article, I created a list of twelve blog formatting tips. Once done, I realized they would work better grouped, and added additional headings for each group.
3. Table of contents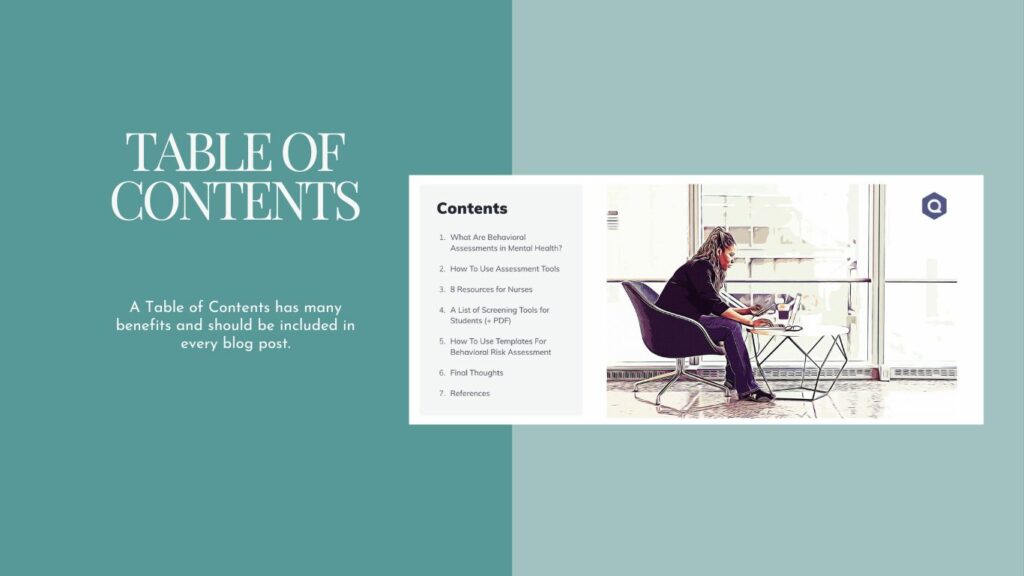 Adding a table of contents is a fantastic blog formatting aid.
A table of contents goes hand in hand with a good structure. It helps you plan your blog post before writing it and it defines the sections you need to focus on.
Not only that, you can implement the much needed H2 and H3 headings, which is important for SEO.
Clearly there are many reasons to use a TOC, and many WordPress plugins help you with that.
4. Visual elements
People love pictures! And they are great aids in creating top quality blog posts.
Graphics, infographics, photos, videos – all tell a story that can make your blog post easier to relate to, easier to understand and easier to read through to the end.
This keeps the reader engaged, scrolling and continuing to the bottom of your post.
In turn, this increases time on page, engagement rate (as opposed to bounce rate), keeps the reader happy and interested, and your message comes across loud and clear with interesting visuals.
Even if you are terrible at creating designs (like me) adding a splash of color breaks the monotony of a long text page and adds structure to your page.
Canva and other online subscription tools are made for people like me who need a lot of help, and they have a great selection of templates to use.
How to Format a Blog Post Using Bold and Italics
1. Bold text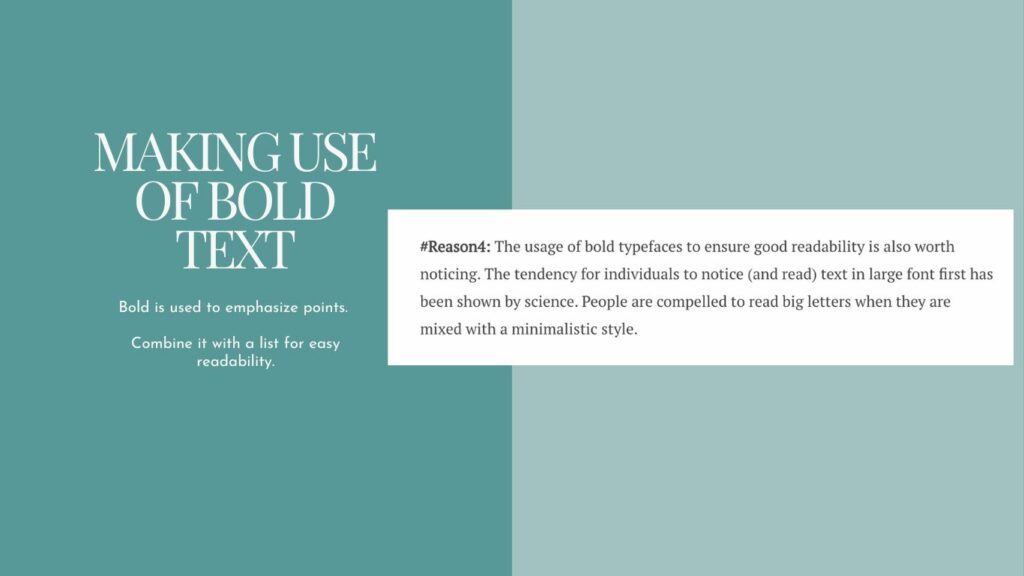 Bold typography (bold text) is used to emphasize words. It is often applied to keywords and sometimes to links. Bold text can promote the scan-ability of a document, or be used to make a point.
I like this saying that I picked up from Graphy.com:
My recommendation is to use bold text sparingly. The eye is naturally drawn to it, so overusing it in a blog post becomes detracting, rather than engaging.
2. Italics
Similarly to bold text, these are often used to emphasize. Again – use sparingly. Italic text is often harder to read, and when used in long sentences or even paragraphs, tires the eye.
The correct use of italics is when using foreign words in the English language, but only some. More common foreign words, such as croissants, would not need it.
Practical Typography recommend that you consult a dictionary to see which foreign words should be italicized.
According to the APA, italics is also used for titles of books, journals and periodicals, webpages, reports, films, videos and other stand-alone works.
Emphasis can be placed on a word if someone might misinterpret the meaning of a sentence without it. Here is a great example:
"How we talk can signify what we are really thinking and how we truly feel."
Remove the emphasis from 'how' and this sentence has a different meaning.
Another thing with blog writing is that one has more creative freedom, and at times, I enjoy using italics for a single sentence.
Wait – but why?
Because it interrupts. It draws the eye to the question, and being inquisitive, we continue to the next paragraph where the answer lies.
That engagement is what you want, drawing the reader on and keeping them in the flow.
3. Font size
When building your website, pick a font size between 16px and 20px, and use that throughout.
The standard WordPress blog editor provides a limited range of font sizes while creating a blog post. Stick to a standard and don't alienate your reader with hugely different font sizes throughout an article.
Leave the larger font sizes for your different headings.
Yes, there are other ways to increase your font size while formatting a blog post, but ideally you should not be concerned with changing font sizes.
Don't forget that your blog post will also be read on mobile devices, and having big and then small text on such a small screen is not ideal.
Optimizing Your Blog Post
Two last aspects I'd like to mention regarding blog formatting tips are Search Engine Optimization (SEO) and link building.
1. Search Engine Optimization
What does SEO have to do with formatting? Everything…
SEO affects your headings, your introduction, your writing and, as mentioned above, even having a table of contents affects SEO.
There are many ways a writer should apply SEO in their writing, and we mentioned several pointers in our article SEO for Writers.
Since there is too much to mention here, rather jump to that article to learn more. Yet, you can never learn enough about SEO and there are ample articles on the internet about SEO.
2. Links
One of the most crucial aspects of formatting a blog post, yet often forgotten, is linking to other articles.
You can add external links to other blogs which you used as sources. You should also add internal links to related articles on your own blog.
And another very important point:
Once your blog post is published, go to your existing blog posts and cross-link back to this new blog post. That shows Google the relevance and authority of the new blog post.
Follow this link is an article describing the different types of links, how they should be used and clarifies link jargon.
Frequently Asked Questions
Below we share a few short answers to regular FAQ's we've come across.
Conclusion: Blog Formatting Tips
There are many excellent examples of great blog post designs, but keep in mind that formatting the blog post is placing your reader's needs and preferences first.
You can have all the bling in the world, but if the flow and layout do not engage the reader, all your effort is in vain.
Creating a high-quality article has many aspects. Authority of the writer, in-depth research or expert views, and quality content. Google observes whether your audience is engaged, as this too is indicative of quality content.
Now that you know how to format your content, try it out on your existing blog posts. Track how well your readers engage by using these KPIs to Measure Blog Performance.
And if you are still not sure or do not have the resources to upload and format your blog posts, knock on our door. Our team can assist you with automated publishing of your blog posts. We'll do all the formatting and hard work to ensure your posts are top quality!
As a last point, this is by no means a comprehensive guide, as I haven't even touched on video, headlines, or interaction. But it is a definitive guide with blog formatting tips you can use right away to engage your readers. Try them out!
If you liked this post and think it might contain some gems that could help other people, please share and follow!
Do you need automated publishing and consistent quality articles?
WebCare crafts quality content for healthcare blogs using our team of top AI optimization experts. If your YMYL blog needs E-E-A-T, our AI writers provide the authority and credibility your blog needs. Sign up to get Early Access to this service.
References
Recommended reading: