Why Blog? With Video & Audio Booming, Do People Still Read?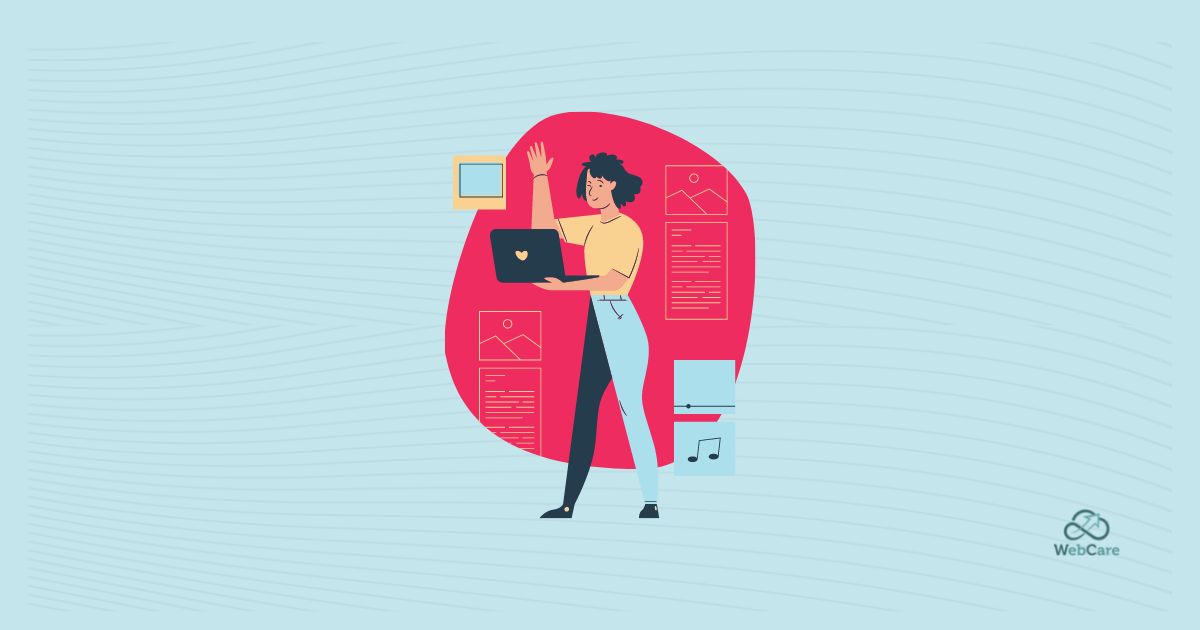 Video content has been on an upward trajectory, with platforms like YouTube partnering with content creators to hook people on their mobile devices. An average person's online watch time is estimated to be 100 minutes daily. Having that information in mind, does it mean that people no longer read blog posts? Why blog? Is blogging dead? The short answer is NO!
In contrast, the need for quality blog content is on the rise. In this article, we will explain why blogging is still as important as video and audio content and why you should have blog content.
Do People Still Read Blog Posts in 2023 or Is It Dead?
Now more than ever, people read blog posts. Blogging is not dead. In fact, more blogs are entering the scene. According to the latest blogging statistics, 77% of internet users read blog posts.
People read blogs for different reasons, which have changed over the years. In this current day and age, most people read blogs to find answers to their questions.
Reasons people read blogs:
How Has Blogging Content Changed in Recent Years?
The first blog post hit the screens in 1994, and was referred to as a weblog. Blogging used to be personal and about sharing writer's lives online.
Eventually, mothers blogging about parenting advice became a trend, with millions of blogs created as a result. But these types of content and personal blogging have now largely migrated to Facebook and other social media platforms.
Inspiring and helpful content is gaining a lot of traction today.
These days, people want to know how to bake a salt caramel cake. They want to know what to pack for backpacking or how to cope with a traumatic experience.
Each month, 70 million posts go up on the web. Businesses that blog experience almost twice as much traffic to their sites and blogs help therapists market their brands. The advantages of a blog is that it can accommodate any content, and you can use it to inform, educate, provide support, sell a product or service, advocate, and much more.
Compared to the original concepts of blogging, blogging is now ever more focused on the reader, and providing helpful content.
Current Blogging Trends
To stay relevant in the market, you need to keep up with industry changes.
According to Contentsquare's digital experience benchmark report, an average reader would spend 54 seconds scanning a web page. Blog owners need to create scannable content that is easily digestible.
Here are some other trends relevant to blogging:
1. Longer and more in-depth content is in demand
Long-form content is now doing better than short-form content.
On average, 70% of the blogs are longer than they were in 2014. The majority of bloggers create blog posts of between 500-2000 words. Around 4% craft blog posts up to 3000 words or more.
According to Hubspot, an average blog post is around 2330 words. Long-form content has enormous SEO benefits, ideal for improving ranking.
With Google's focus on helpful content, search engines rely on credibility and authority. Proper keyword research and phrases are still extremely important, as is creating quality content.
You need to work harder to win your audience's trust. Even if you are an expert, other experts might come out to contradict whatever you are saying. Always. Get your facts right.
2. You need to promote content
To get your content to more readers, promoting content is necessary. It was easier to build a blog in the previous decade without promotion than now. Use email and social media marketing to promote blog content.
3. Visual content is key
For a blog post to perform well, you need to incorporate different visual elements, such as infographics, quotes, videos, and slides, throughout the content.
Use graphic design software to create custom images. Human beings have higher retention for visuals compared to text alone.
For more on this, read this post: The Importance of Graphic Design for Blog Posts.
Why Blog? Is It Worth the Time and Effort?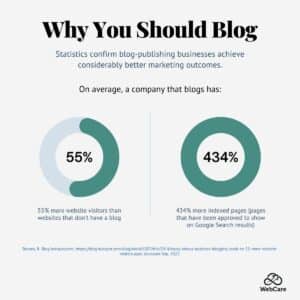 With all your misgivings about blogging hopefully fading, you might still wonder if it's worth the time and effort.
Besides a resounding Yes!, here are some answers to the question 'why blog, is it worth the time and effort?':
1. Increase traffic to your website and convert leads to customers
By blogging and optimizing your site for SEO, you will increase traffic to your website.
According to HubSpot, "Websites with blogs have 55% more visitors, 97% more inbound links, and 434% more indexed pages than websites without blogs". With such traffic to your website, you have the ideal opportunity to convert your website traffic into leads.
Each new post is a chance to create new leads. Ensure you have a clear call to action in every blog post.
2. Blogs can be shared on social media platforms for a wider reach
Blogging helps keep your social media alive. Once you have a new blog post, you can share it with your followers on Facebook, Twitter, Instagram, and Pinterest. The process will ensure you reach a larger audience. According to HubSpot, small businesses that blog have 102% more Twitter followers.
The majority of bloggers use social media to boost their blog engagement. Instead of creating a new social media post each time, you can repurpose a blog post for social media posts. Doing this drives traffic to your site.
3. Blogs are a great way to sell your therapy service online
Consistently putting an excellent blog post out there gives your brand a personality. According to blogging statistics by BlogHer, 81% of consumers trust blog content. A blog reaffirms, builds, and also strengthens your brand name.
Blogging gives your practice or coaching business more visibility. It allows you to differentiate your services from a competitor. It helps you connect with your potential clients by showcasing your expertise and even personality.
4. Blogging is a great way to build an online community
Blogging is a great way to encourage engagement. You can build relationships with new and existing clients who constantly interact with your work by continuously creating new content. It engages consumers with topics they are interested in or want to learn more about.
5. Blogging adds credibility to your brand
According to Social Marketing Writing, around 68.5% of marketers and business owners surveyed say blogs add credibility to a website.
6. Blog post can be evergreen
An evergreen blog post, one that remains relevant even long after publication, offers a continuous ROI – return on investment. The time, resources and effort that have gone into creating it, has exponential potential to create new leads.
In contrast, social media posts tend to drop off the radar pretty quickly. You have to keep on creating new and fresh social media posts to stay relevant. A well-written blog post provides solutions to your potential clients for years to come.
Benefits of Blog Content Over Video and Podcasts
There is a thin line between blog content, video content, and podcast content. Different audiences will prefer one content over the other.
Here are some benefits of a blog over video and podcasts:
What Is the Future of Blogging?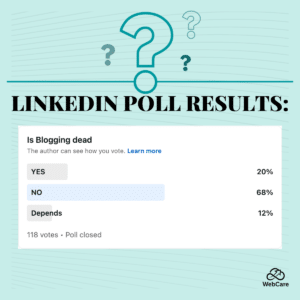 As on Sept 12, 2022, 1.98 billion blogs existed online.
Active websites have increased by around 9% from last year.
The number of blog posts will continue to increase.
To be relevant in the industry, here are some things to keep in mind.
Frequently Asked Questions
Below we share a few short answers to regular FAQ's we've come across.
Conclusion to Why Blog?
Blogs are still highly relevant in 2023 and will remain so for many years. It's necessary to evaluate your SEO strategy to ensure your website has the authoritativeness, expertise, and trustworthiness search engines encourage.
If you are not sure if your website measures up, our Helpful Content Update article includes a handy spreadsheet with which to evaluate your website.
Keep this in mind: Before a video is made, before a podcast is made, before an advert is made, someone has to write the copy. Writing won't disappear, and writing a blog post is a wonderful way to connect directly with your prospective client.
If you liked this post and think it might contain some gems that could help other people, please share and follow!
Do you need help creating great quality blog content?
WebCare crafts quality content for healthcare blogs using our team of top AI optimization experts. If your YMYL blog needs E-E-A-T, our AI writers provide the authority and credibility your blog needs. Sign up to get Early Access to this service.
References
Recommended reading: